Inspired by works in the Corcoran Collection, 8 of the Washington D.C's best mixologists compete to create the most artistic martini at the Annual Corcoran Artini Night! 
Heavenly Spirits' Marie Duffau Napoleon, La Muse Verte Absinthe, and Artez Eau de Vie de Poire were featured in four of the artinis some the night. #tbt to 2013 and some great cocktails!
---
Blush Blanche
Created by Alex Bookless, of The Passenger. Photo by David Swartz.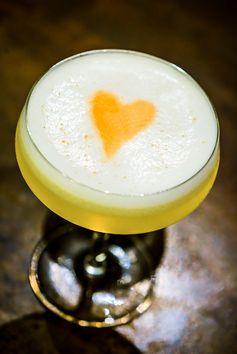 Ingredients:
1.5 oz. Artez Eau de Vie de Poire

.5 oz. chocolate passionfruit syrup

.5 egg white

.25 Pur Likor Williams Pear Liqueur

4 dashes Scrappy's chocolate bitters
Instructions:
Add all ingredients into a cocktail shaker. Shake a few times, then add ice and shake until chilled and foamy. Pour into a chilled glass.
Serves 1
Inspiration: "Venus" Antonio Canova