This Past Summer We Visited Twelve of our Award-Winning Spirit Suppliers in Nine Unbelievable Days
Come Along as We Reflect on an Amazing Journey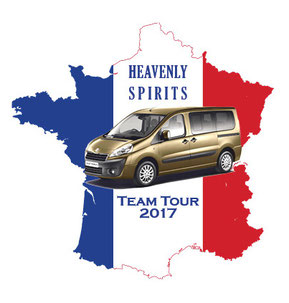 Artistry, Passion, and Time: This is what every Heavenly Spirits supplier puts into their products. In June, Christine, four members of our sales team, and I had the pleasure of visiting with twelve exceptional, family-run businesses to get an in-depth look at how they do what they do. We started the tour in Normandy, visiting with Calvados Roger Groult and Calvados Claque Pepin respectively. Nine days later we finished our tour in the Gascony region with visits to Armagnac Artez, Dartigalongue and Delord. In between, we visited with the makers of ArmoriK Single Malt Whisky, Jahiot Creme de Cassis, and Domaine Magnaut, as well as Cognacs: Normandin-Mercier, Jean Fillioux, and Du Peyrat. Plus, there were several other surprise stops along the way.
A Team Tour Travel Diary
Christine and I arrived in Paris three days before the team, mostly so we could acclimate to the time change and the new "buy-back" touring van we would be driving, but it was also so that we could spend a day with our sons, Austin and Keenan. Austin now lives in Versailles and we hadn't hung-out together as a family since Christmas. We ended up spending our day together visiting Claude Monet's garden at Giverny. French Art is something I have always admired. Whether it is in the form of fine paintings or fine spirits, the French always seem to strive to attain a universal quality grounded in nature. Despite temperatures in the high 30s Celsius (100 F) we had an enjoyable day walking, talking, eating and laughing together in Claude Monet's house and garden. In retrospect, learning about this French artist's art and his passionate expressions of life was a perfect way to prepare ourselves for the tour we were about to embark on.
Roger Groult Calvados Pays d'Auge
Day one of the Heavenly Spirits Team Tour began on Thursday morning, June 22, when the team arrived at CDG airport in Paris. Carlos flew in from California, arriving the night before, while Naomi, Paul and Moe came straight from Boston. Christine and I picked them up in our brand-new, Peugeot Expert, 8-passenger touring van and drove directly to Normandy, where we visited the historic family farm and distillery of Calvados Roger Groult. Annie Daireaux was our guide, as Jean-Roger was away at a VinExpo-related meeting. Cooler than the day before, the weather conditions were ideal for a long and detailed visit of the property.
We started the tour by seeing the Calvados production facilities, including a large open area that later in the season would be loaded with heaping piles of ripe apples ready to be turned into the cider that would then be aged and eventually distilled into calvados eau de vie. We then ventured into the amazing aromatic cellars of Calvados Roger Groult, each one a distinctive legacy left by a preceding generation of the Groult family. We started with the largest and most recent cellar built by Jean-Roger's father, Jean-Pierre, and worked our way back to the oldest cellar, created in the late 1800s by Pierre Groult. The musty scents of angel share calvados inhabiting this cellar were mesmerizing. You could literally feel the presence of ancient spirits past. Our next stop was a visit to the distilling room. Groult is one of the few distillers of any type still using wood to heat their two, very small, hard-working stills. I remember from a previous visit during the distillation season what an amazingly sensorial process it is, when the stills run continuously through the cold night, tended by a single dedicated distiller, and the baked apple and toasted wood smells mingle and fill the air.
Of course at the end of the tour, we found ourselves in the tasting room, where an exciting surprise that Jean-Roger had been working on awaited us: three new expressions of calvados, each one finished in a different type of oak barrel: Sherry, Jurançon and the one that I think was my top favorite, ArmoriK whiskey from the Warenghem distillery, where we would be visiting the next day. While Jean-Roger's experiments were clearly a great success, we will unfortunately have to wait until at least late 2018 before any bottles will be available for import to the United States.
We left Calvados Groult feeling confident that Jean-Roger, who represents the fifth generation of this storied family, is now firmly in charge and moving forward with new ideas built on traditionally-proven methods. Our continued aim will be to inform U.S. spirits consumers so they will become increasingly aware and appreciative of these great spirits, as well as the art, passion and time that goes into producing them.
The Land of Camembert
After our very informative 3 hour Calvados Groult tour and our first official visit completed, we soon realized that our crew was running on fumes due to the effects of jet-lag. With comfort in mind, we decided to stop at a grocery store to pick up some snacks and to look at what the local region had to offer. What everyone seemed to gravitate toward was the cheese and the great affordable variety that was available. It also reminded us that we were in the land of Camembert. Naturally, we picked up a few samples along with some fresh baguettes and some wine. Next thing you know, everyone was wide awake and we were parked in front of the official Camembert Visitors Station eating our cheese and restoring ourselves for the final drive to our hotel.
La Table de Catherine
After another hour in the car we were all starting to fade again. When we finally arrived at our hotel, Le Faisan Doré, I'm sure most of the crew just couldn't wait to crawl into their beds. But wait, there was more! This little hotel also happened to be a highly-regarded culinary destination that we intentionally traveled out of our way to get to, because Christine had made reservations to dine. 
The name of the restaurant is "La Table de Catherine," and they were expecting us. We were given twenty minutes to check into our rooms and freshen up before meeting in the back garden for an aperitif alfresco. It was clear, this was a family-run business and everyone chipped in to help, including the polite young man who took our aperitif orders in the garden. Back inside, the outstanding dinner was prepared by Catherine herself and served in combination with her husband Philippe. Without going into all the delicious details here, I can say clearly that each of us was very satisfied with our dinner and went back to our rooms content and now, more than ever, ready to sleep. 
Claque-Pepin Calvados & Cider
Day two, part 1 - We visited with Benoit and Sandrine Louvet and their 4 daughters. They are the producers of Claque-Pepin Calvados and Cider. Benoit Louvet grows apples and pears but also buys from a few local growers, especially in the Domfrontais, an area he loves. After he makes his cider, an itinerant distiller comes to the farm to distill Benoit's ciders to his specifications.
The property is located in the Normandy region, nestled between the Domfrontais and the Pays d'Auge.  The pair of large 17th century stone buildings was originally the support farm for the neighboring ancient Chateau de Serans. We arrived the morning after the oldest daughter's graduation party and the backyard was dotted with tents, as many of her friends had stayed over. Despite the full-house (or full-yard), Sandrine and Benoit made us feel right at home, offering us a tasty lunch when our tour and note-taking session was complete. It was during the lunch that we had the opportunity to taste the delicious Poiré as well as the Pommeau. Our whole team agreed this was something we wanted to bring back home.
It was a great pleasure spending time with this young family-owned company that seems motivated by a love and passion for the land they live on and the products they produce. We expect they will continue to build on an already incredible range of ciders and calvados, most of it organically grown, some of them already certified organic! `We look forward to introducing them to more and more markets in the USA.
Armorik Single Malt Breton Whiskies
Day two, part 2 - After a great morning in Calvados, we headed our van toward Brittany and looked forward to a visit with our good friend David Roussier at the Warenghem Distillery, makers of the oldest and best-tasting French made whisky, ArmoriK Breton single malt. We arrived in late afternoon, allowing us time for a full tour of the facilities and ample time for a tasting. We began in the Warenghem offices where we had the opportunity to meet some of the staff, including Erwan, the new Cellar Master, and Clemence, who is in charge of the European market. From there we walked over to the impressive gift-shop and tasting room, just as a large tour bus from Germany was pulling in. Apparently this is a favorite stop for these European tour groups, especially in the summer time. After giving the Germans a head-start on the guided tour, David walked us through the entire operation. Paul Scott, who is rather knowledgeable on whiskies and a great fan and promoter of ArmoriK, asked most of the questions on the mash making and distilling processes. He and the rest of the team took plenty of notes. Our next stop was the ageing cellars, where I was happily surprised to see a drastic increase in stocks with casks stored five high and a range of experimental finishes in the works. After a look at the bottling and shipping departments, we ended up in a meeting room where David had prepared five items for tasting. Each one was a winner, particularly a certain version of Rye Whisky and a couple of single malts that were nicely peated. While I can't give away all the details just yet, we were very impressed with the future products and projects in the works for Warenghem.
As it happened to be my birthday, David invited us all over to the port of Lannion, where we checked in to our hotel and had an amazing seafood dinner in a restaurant overlooking the picturesque port.
We are happy to report that Warenghem Distillery seems to be entering a very dynamic stage in its storied history. It is extremely well-managed and well-positioned for even more great things to come. The challenge for us remains to find the best ways to connect with American consumers in a crowded whisky market so they can see for themselves what a truly great range of whiskies ArmoriK produces.