Inspired by works in the Corcoran Collection, 8 of the Washington D.C's best mixologists compete to create the most artistic martini at the Annual Corcoran Artini Night! 
Heavenly Spirits' Marie Duffau Napoleon, La Muse Verte Absinthe, and Artez Eau de Vie de Poire were featured in four of the artinis some the night. #tbt to 2013 and some great cocktails!
---
Lé Corcoran
Created by Milton Hernandez of Ambar. Photo by David Swartz.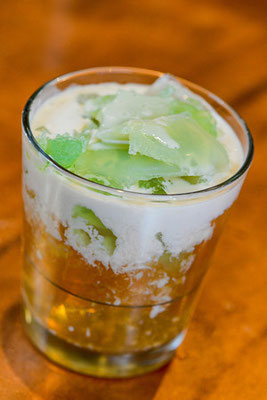 Ingredients:
2 oz. Dark Corner Distillery Apple-Flavored Corn Whisky

1 oz. Mezcal Benevà-Añejo infused black tea

1 cup milk

1 cup heavy cream

.5 oz. La Muse Verte Absinthe Traditionnelle

1 tsp gelatin
Instructions:
Blend the milk, cream, and mezcal together to infuse, and allow it to sit in a refrigerator for a day before use.
At a low heat, warm up the absinthe and, using a whisk and a teaspoon, add one teaspoon of gelatin to the warm, but not boiling, absinthe, then let it cool in a refrigerator for five hours.
To put the drink together, pour the apple whiskey over ice and stir twice, add one tablespoon of the absinthe emulsion so it floats over the whiskey, then add the remaining mezcal infusion over the absinthe emulsion to create three layers.
Serves 1
---
Inspiration: "Mount Corcoran" Albert Bierstadt