Inspired by works in the Corcoran Collection, 8 of the Washington D.C's best mixologists compete to create the most artistic martini at the Annual Corcoran Artini Night! 
Heavenly Spirits' Marie Duffau Napoleon, La Muse Verte Absinthe, and Artez Eau de Vie de Poire were featured in four of the artinis some the night. #tbt to 2013 and some great cocktails!
---
Hineri's Mark
Created by Eddi Kim, of Daikaya. Photo by David Swartz.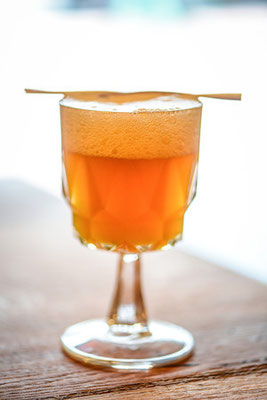 Ingredients:
1.5 oz. FEW Spirits Rye

.5 oz. Tempus Fugit Dark Creme de Cacao

.25 Pierre Ferrand Dry Curacao

Dash of Tabasco

24 oz. Marie Duffau Armagnac Napoleon

3 leaves gelatin

6 oz. orgeat
Instructions:
Dissolve 3 leaves of gelatin in 24 oz. Marie Duffau Armagnac Napoleon. Then add 6oz orgeat syrup. Mix well, chill, load into an iSi siphon, and charge with CO2. Add whisky, creme de cacao and Tabasco to a chilled glass. Pipe foam on top.
Serves 1
---
Inspiration: "Afro.Died T." Iona Rozeal Brown