Le Trou Normand - Original: 
It is certain that the first time a palate was cleansed with a young Calvados eau de vie, it happened during a meal consumed near to the still during distillation season. With this small sip in whatever glass was available, a tradition was born.
Christine's Trou Normand
This variation of Le Trou Normand was created by Christine Foubert Cooney for one of her legendary holiday meals. It was served in a small, elegant, wide brimmed cordial glass with a tiny spoon, between courses of the fish and the meat.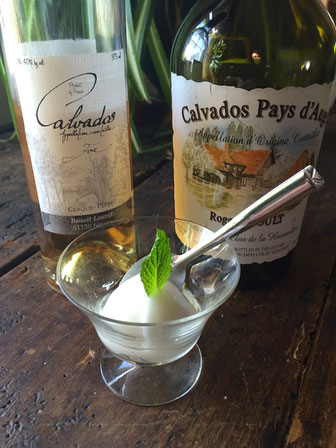 Ingredients:
1 to 1.5 oz. Claque-Pepin Calvados Fine

1-2 tablespoons homemade lemon granita

1 mint leaf
Instructions:
Spoon Granita into the glass, filling half way. Pour Calvados over the Granita. Add mint leaf garnish. Serve immediately with tiny spoon.
Serves 1
For a simple lemon granita recipe, we recommend this one from Epicurious.