This cocktail was created by Jon Yeager of PourTaste in Nashville, TN. We're always looking for innovative recipes featuring our products and ran across this featured in Gaz Reagen's "101 Best New Cocktails."
Jon describes his creation as "a modern rendition of Jerry Thomas' drink by the same name. His method was essentially cooking brandy and peaches together, to be served in a mug. This rendition enables a bartender to make and serve this individually."
Gaz's take: "This is absolutely beautiful. Deserves a standing ovation. I'll be serving these at parties for sure." 
Burnt Brandy & Peach
Burnt Brandy and Peach
Created by Jon Yeager of PourTaste, Nashville, TN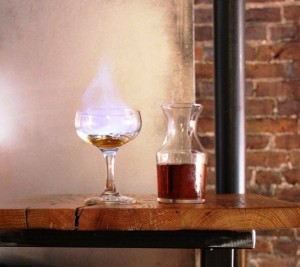 Ingredients:
1.5 oz. (45ml) Delord Armagnac Napoleon

1 oz. (30ml) Carpano Antico Formula

0.5 oz. (15ml) Massenez Creme de Peche

2 dashes Angostura bitters

0.25 oz (7.5ml) Laird's Straight Apple Brandy
Instructions:
Stir the armagnac, vermouth, crème de pêche, and bitters over ice for 20 seconds, then pour into an individual wine decanter. Rinse a coupe with the apple brandy (do not discard) and ignite. Slowly pour the chilled cocktail into the flaming coupe and serve.
Serves 1