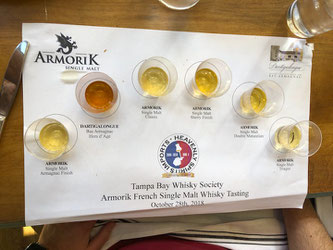 As I glance out the window on this crisp late November day, I can see the trees have all shed their leaves, clearly signaling that we are, without a doubt, full into Brandy season. Here at Heavenly Spirits, we have been busy keeping up with the increased demand for exceptional French spirits. Like the industrious squirrels scurrying around the yard, we have been traveling around the country making sure retailers are well-stocked in anticipation of the cold weather ahead. Over the past few months, Christine and I have visited over a dozen states, conducting seminars and tasting events everywhere we go. Fortunately, we continue to enjoy each other's company, as well as the upbeat nature of our industry and the eclectic collection of people we encounter along the way. 
In October, after CC and I worked the Indie Spirits Festival together in Chicago, I returned to the home office while she began a two-week cross-country spirit promotion marathon. The states she visited include: Indiana, Tennessee, Colorado, and Arizona. In late October we joined forces again, traveling to Tampa, Florida, where we met about twenty-five members of the Tampa Bay Whisky Society and conducted an informational tasting seminar at On Swann. There we sampled a wide range of delicious ArmoriK Single Malt Whiskies. Many thanks to Lana and Chris for organizing this event. We also had the opportunity to tour and sample at least a dozen of the fine eating & drinking establishments in and around both Tampa and Saint Petersburg. Our stop at Bern's Steak House Bar was a particularly enjoyable treat. We were thrilled to spot some our rare Armagnacs, Cognacs, and Calvados on their extensive menu, before we were invited to tour their wine cellar, which is purported to be one of the best in the world; and of course we ended up in their famous dessert room ordering a Heavenly digestive and sharing a crème brûlée. Endorsed by some long-time friends, we stayed at the fabulous Epicurean Hotel by Marriott, and we highly recommend it to anyone visiting Tampa, especially if you're a fan of fine wine and excellent service. 
Only a week later, we drove up to New Hampshire to participate in their Annual Distillers' Showcase event, and then flew to Buffalo, New York, where we were invited to give two seminars at the American Wine Society's annual convention. The topics we covered were:  "Armagnac vs Cognac," and "Calvados and Other Normandy Delights." Both seminars sold out and we had a great time with a very knowledgeable group of wine aficionados. It was our first experience with this enthusiastic organization and we definitely hope it will not be our last. 
After another short pit stop at home, we spent our pre-Thanksgiving week back in Chicago participating in three separate events. The first was the French American Chamber of Commerce's annual Passport to France, featuring tastings of Chicago's  best representations of French food and drink. Our table featured a wide range of our spirits, carried by our distributor, BC Merchants, including ArmoriK Single Malt whisky. Thanks to wine expert Tony Gatti, we even got to have a first taste of this year's Beaujolais Nouveau by Georges Duboeuf, (excellent), as well as the first ever launching of Nouveau Beaujolais Rosé.
The very next evening, we were at the Lakeview Binny's Beverage Depot, in the basement warehouse cave that was formally owned by infamous gangster, Al Capone. Here we presented a tasting seminar to a sold-out room, entitled: "Armagnac De-constructed," which included a complete look at the ins and outs of Armagnac, accompanied by nine sample tastings from around the region. I guess sharing our passion for Armagnac is just what Mousquetaires like us do. 
Finally, the third event was a bit more personal and dare I say, "romantic?" as Christine and I paid a visit to Geneva, Illinois, connecting the loop on the timeline of when we first met. It was over thirty-two years ago, after a five month stay here "to perfect her English," that Christine's host family gave her a going-away party in this town. That was on the night before we sat next to each other on an airplane in Iceland. This was her first time visiting Geneva since that day and my first time ever. A lot of water has certainly passed under the bridge since then. We did end up enjoying a wonderful lunch with Sue and Jim, a married couple Christine became close with during her original stay so many years ago. We are grateful that Sue found Christine and reconnected with her through Facebook last year. It was a warm and wonderful reunion in a very charming town, known especially for its Guinness Book-awarded Master Chocolate Chef, Alain Roby.
For the rest of the year, we plan to stay closer to home, sharing our spirits through local tasting events, while doing our best to make sure our Heavenly products are available to be enjoyed at celebrations throughout the country. 
Wishing you and yours all the best this holiday season! May all your spirits be Heavenly and bright.
Daniel & Christine Cooney