Armorik Whisky Sour
ArmoriK Single Malt Sherry Finish received 94 points and the Chairman's Trophy in the Ultimate Spirits Challenge 2015, as well as the Tried and True Award. The Tried and True Award is awarded to "products that were entered into USC 2015 and a minimum of two prior USCs and have scored 85 or higher each time, are recognized for consistency of product quality with this award."
In addition to being judged on its own, ArmoriK Single Malt Sherry Finish was rated in a classic cocktail, the whiskey sour. The result: Whiskey Sour: 4 Stars, Very Delicious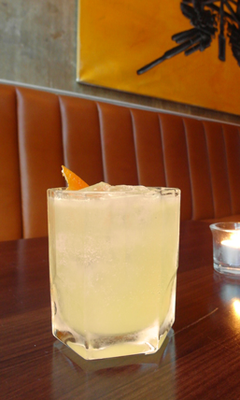 Ingredients:
1.5 oz. Armorik Sherry Finish Single Malt French Whisky

.75 oz. fresh lemon juice

.75 oz. simple syrup

orange peel for garnish
Instructions:
Shake all ingredients in a cocktail shaker over ice. Strain into a chilled rocks glass and garnish with orange peel.
Serves 1
Tasting Notes from Ultimate Spirits Challenge 2015 for Armorik Sherry Finish:
This French whisky drinks a lot like a Scottish single malt. Traces of rubber, peat and toffee comes through on the nose. In the mouth, it's apples and sherry with a peppery edge. Still, fresh and vibrant.