With the Holiday season in full swing and a two full weeks of shopping until Christmas, we thought it would be a great time to feature some of the more rare and sumptuous treats from the amazing artisanal producers we represent. Some of these items are in very limited supply and others might need special shipping arrangements to arrive in time for Christmas. In any case, they are all masterfully-made products by dedicated, family-owned distilleries and they would make uniquely wonderful gifts any time of year to that certain someone who really knows their spirits. If you are interested in purchasing any one of these items please contact us at (508) 947-9973 as soon as possible and we will do our very best satisfy the request(s).
All the Best to you this Holiday season from all of us here at Heavenly Spirits!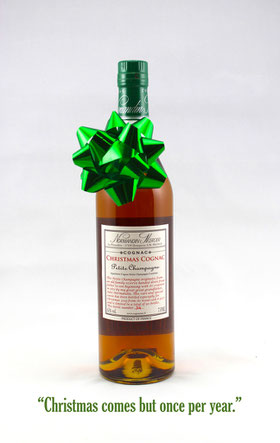 Normandin-Mercier
Christmas Cognac
This Petite Champagne originates from an old family reserve handed down from father to son beginning with the house's creation in 1872 by Edouard Normandin's great, great grandfather, Jules Normandin.
This special and rare cuvee has been selected and bottled especially for Christmas 2015 from oak cask #8007 and is limited to a total of 240 bottles. It has been aged for 17 years and bottled at cask strength 45% ABV. Each bottle is hand numbered.
Introduced by request to only two markets late in 2015, we hope to make it available to more states in 2016. 
SRP: $150.00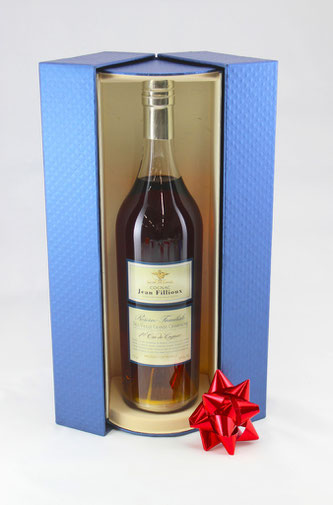 Jean Fillioux Reserve Familiale
50 years old
This exceptional cognac is in itself a journey in the infinite world of aromas and flavors; everything is there incessantly tickling your taste buds: dried, candied fruit, rich rancio, leather, cigar box, toasted cocoa bean, vanilla and toffee. The finish is silky, with notes of honeyed and peppery spices.
5 stars "Highest Recommendation"
Spirit Journal
"A Cognac to savour over a long time, sip by sip, eyes closed. Pure pleasure!"
Sommeliers International
With Gift Box:
SRP: $400.00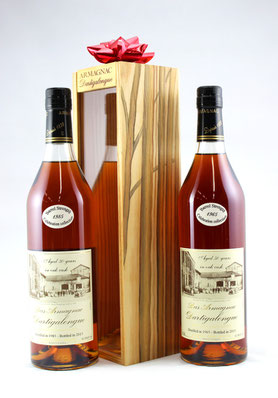 Armagnac Dartigalongue 
Vintages
"Vintages are typical in Armagnac and Dartigalongue has an impressive collection with most years and even some from 1829. The best sommeliers in the world choose Dartigalongue and dinners are regularly built around their Armagnacs. Menus from top Parisien establishments, including the Moulin Rouge, adorn the walls of the company's museum that also boasts an awe inspiring number of documents from the beginning of the company's creation." - Justin Postlethwaite, French Entree
*Added option, original, hand-painted gift box, signed and custom-dedicated by French artist, Philippe, Lejeune. Contact us for more details on availability and cost. (Example shown in photo)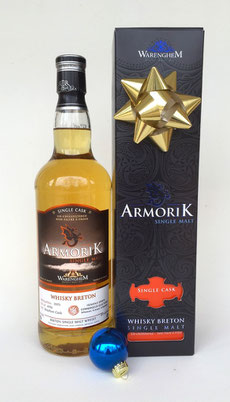 ArmoriK Single Malt Connoisseur's Collection, 2005 Bourbon Cask, Barrel #4764
Armorik produces classic whiskies with pinpoint precision. This exclusive single cask was matured in Bourbon Casks.
Tasting Notes from Astor Wines:
This hand selected single cask will put to bed any questions you may have about whether great single malt can be made anywhere besides Scotland. We have been singing the praises of this 100-plus-year-old distillery for a while now and the heritage of this whiskey shines through in this excellent 2005 vintage single barrel aged exclusively in a first fill Buffalo Trace bourbon barrel for nine years. The nose is both exuberant and harmonious. Fruit, malt, savory notes, and spice all play a part here to bewildering effect. Elegance reigns on the palate where the brighter aromas turn to satin and mellow out as they linger on the finish. One of the best whiskies on the shelf. What are you waiting for?
Available exclusively at Astor Wines, NY; Julio's Liquors in Westborough, MA; and Binny's Beverage Depot, Chicago, IL. 
SRP: $99.00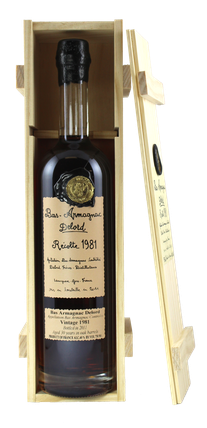 Armagnac Delord
Vintage 1981:
Jerome and Sylvain Delord have established a reputation for quality that is unsurpassed. Owners of a prime 20 hectare vineyard in the heart of the Bas Armagnac, (widely known as the 1st Cru), they have been distilling, ageing and blending their eaux-de-vie the exact same way their great-grandfather did. Their ageing cellars contain Armagnacs dating back to 1904.
The 1981 vintage is particularly fantastic!
SRP: $110.00
Chairman's Trophy. 97 points. 
"Extraordinary, Ultimate Recommendation"
Ultimate Spirits Challenge, 2013
GOLD medal and WINNER of President Republic Prize
(Best Armagnac of the competition).
Concours des Grandes Eaux de Vie d'Armagnac, 2008
*Added option, original, hand-painted gift box, signed and custom-dedicated by French artist, Philippe, Lejeune. Contact us for more details on availability and cost.