Heavenly Ad Campaign Paints an Expressive Picture of Craft Spirits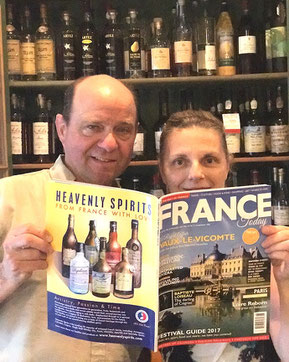 Artistry, Passion, and Time: these are what every Heavenly Spirits supplier put into the exceptional spirits they produce. In our new ad campaign, we illustrate this dedication in both word and image. While we have always tried to convey the authentic quality of the small-to-medium-sized family-owned producers that we represent, the difference in this new effort is in the way we show it. Instead of presenting the respective products in sharply-focused photographic images, as is commonly done, we decided to literally paint (or draw) a more authentic picture, reflective of the hand-crafted spirits that we represent.
What the viewer will see in this new campaign is an image of individual Heavenly Spirits products, rendered in a painterly illustration style, symbolizing the unique art and craft that have gone into each of the spirits we sell.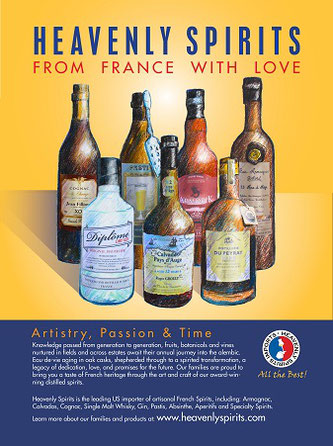 The initial concept for this campaign came about while Dan Cooney, owner, marketing director, and former college art professor was looking at some classic advertising from the 1940s, specifically that iconic French illustrator/designer, A.M. Cassandre. Dan's intention was to impart a bit of inspired nostalgia by borrowing the look and feel of those classic French designs. After a few experimental sketches, he ended up with an illustration style that combined painting, drawing, and collage, which seemed to communicate the desired hand-crafted look.
As the concept began to take shape, the Heavenly marketing team decided to add some of that artistry and poetic license to the body copy as well, with Naomi writing a great first draft. After that, the team turned their attention to the backdrop for the bottles in the ad and tried a dozen creative options before referring again to A.M. Cassandre for inspiration. Our design intern, Emma helped develop the stylized shadows to place behind the bottles for a Cassandre-esque feel.  After a dozen or more evolved iterations, Dan submitted a tight comp to the magazine, FRANCE Today, to get their reaction, and was very pleased when they said they "loved it." Additionally, the magazine's ad team said they wanted to consider it for a back or inside cover, adding, "archetypal French advert/products always resonate with our audience."
 So far, the reaction to the handcrafted spirit art from the ad campaign was so positive that we have started work on similar illustrations of Heavenly cocktails as well. Look for these to appear in a Heavenly Spirits Cocktail Recipe Book in the future. Cheers!