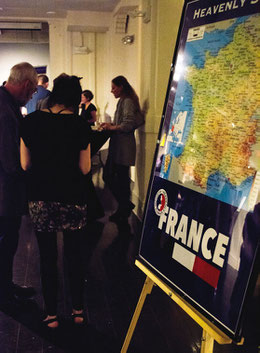 This November we held our first ever portfolio tasting at the New Bedford Art Museum in New Bedford, MA. Part educational tasting, part fundraiser, mostly party, we're pleased to say that the night turned out very well. The museum's galleries were packed with friends, family, and newbies to the Heavenly sphere, mingling, conversing, eating, and of course, tasting our French wines and spirits. 
We  poured over 60 of our award-winning products from our nearly 20 independent, family-owned producers, including Cognac, Armagnac, Calvados, whisky, gin, wine, liqueurs, absinthe, and aperitifs. 
We had lively music from Bertrand Laurence and Menége à Trois, which set the festive atmosphere. Our restaurant partners, Cork, Emma Jeans, Kyler's Catch and EJ's filled the museum space with delectable aromas and delicious small bites. Christine's spread of French cheese (45 lbs of it!), along with a selection of fresh French breads, was a sight to behold! Rory, bar manager at La Voile in Boston, was on hand with two wonderful cocktail creations, though regrettably without his customary beret. Our thanks to our friends, family, and Heavenly team members who staffed the tasting tables and were ready to answer questions and educate our guests about our French spirits. We couldn't have pulled it off without their hard work. 
Our graphic design intern, Emma, who took photos and videos of the event, put together a video slideshow for us below. Thanks to everyone who came out and we can't wait to do this again next year!