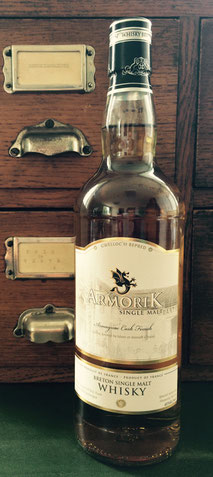 Heavenly Spirits is pleased to announce a first in the whisky market: a French whisky double matured in refill ex-bourbon casks and ex-Armagnac barrels. This is the first whisky in the world that we know of to have an Armagnac cask maturation. The cask used (No. 8151) came from the oldest Bas Armagnac producing house, Armagnac Dartigalongue, who happens to be another proud member of the Heavenly Spirits portfolio team.
This collaboration between Armorik and Dartigalongue came about in part due to our desire at Heavenly Spirits to have a French whisky matured in Armagnac barrels. The suggestion was given and the rest is history. The unique label design melds a lightly-depicted antique photo of the Dartigalongue distillery's yard with the classic Armorik Breton dragon logo. 
The whisky was matured for 3 years in a refilled bourbon cask and spent an additional 2 years in the Dartigalongue Armagnac cask. 
Tasting notes from the Director of Warenghem Distillery, David Roussier:
Color: Copper   ABV: 46%
Nose: Nice aromatic intensity. At first some lemon notes and vanilla, followed by ripe fruits (Mirabelle plums) and elegant oaky notes. Licorice, with soft notes of pastry with almonds. 
Palate: Intense aromas of citrus, followed by a nice roundness and nice volume. Elegant woodiness enhanced by peppery and fruity (peach) notes. Long and spicy finish.  
About the Houses:
The Warenghem distillery located in Lannion, Brittany has been making high quality liqueurs and spirits for over 100 years. In 1900, Leon Warenghem created his first product, the Elixir d'Armorique, a distillate of 35 plants which won awards at international exhibitions in 1902. 30 years ago, Warenghem was the first and only distillery to ever produce double distilled single malt whisky in France and today it remains the most renowned. 
The oldest house in Bas Armagnac, the Dartigalongue family began to distill in 1813. In 1838, Pascal Dartigalongue founded the first Maison d'Armagnac in Nogaro, the heart of the Bas Armagnac region. In 1870, his son Joseph acquired a large vineyard in Salles d'Armagnac near Nogaro. In 1978, his great grandson Pierre Dartigalongue created his Museum in Nogaro which houses all the archives of Maison D'Armagnac, including all correspondence since 1838 and a fascinating collection of Vieux Armagnacs in their original bottles, dated 1829, 1848, 1852, 1870, and 1900. Today, Dartigalongue is regarded as one of the leading producers of high quality Armagnac.