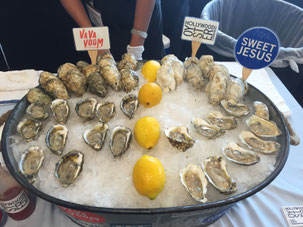 This year marks the seventh year in a row that Heavenly Spirits has participated in The Inland Seafood/Quality Wine & Spirits Annual Food & Wine Experience. They have certainly figured out a winning formula, as the overall experience has not changed much in all that time. Of course, how can you go wrong by staging it in a great city like Atlanta, gathering around fifty of the finest seafood suppliers on the Atlantic coast along with a hundred or so different wine and spirits suppliers from around the world, and ask them all to bring their best samples to taste? Add some pretty good live music, invite chefs, restaurateurs, caterers, grocers, retail wine & spirits store owners from the greater Georgia area to come by, hang out and taste quality for six hours straight, and it has to be a successful good time.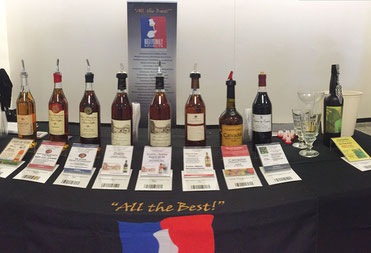 As usual, we had a table packed full of our award-winning French products, including some of our super stars like the Marie Duffau line, a couple Dartigalongue Armagnacs, a Jean Fillioux Cognac, a Crème de Cassis from Jules Theuriet, and our Absinthe La Muse Verte. This year we also had the pleasure of introducing Du Peyrat Organic Cognac for the first time to Atlanta and it was a big hit.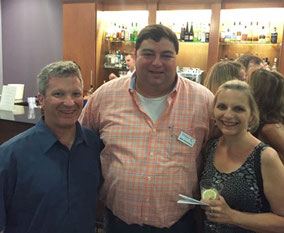 Each year, we fly in to Atlanta the night before the event, go to the before-party held at the Quality warehouse/offices, attend the event, and then find a good place to eat in Atlanta before taking off the next morning. This year we ended up at a bar and restaurant by the name of Empire State South. It turns out they carry several of our Heavenly Spirits products and they were recommended by a half dozen attendees. The experience did not disappoint. 
After a short Uber ride, we sat ourselves directly at the bar and started with cocktails; CC ordered the "Love Shack" featuring gin, ginger, and passion fruit, and I had the "Two World Hero," which featured cognac, rye, and sweet vermouth. Both were delicious and just what the Doctor ordered after a long day. We then chose a range of tapas-style vittles from the menu, including: the ESS Charcuterie tray, Baby Carrots, the "Farm Egg" recommended by all, and a Hanger Steak. To accompany our feast we both ordered a glass of Minerva, a good value red wine from the Southwest of France that we used to buy frequently as our house wine when we were living in Saint-Jean-de-Liversay, near La Rochelle. This particular one, a 1913 from Chateau d'Oupia was quite good and brought back fond memories. All in all, it was a great experience and a good way to close out another busy business road trip in Atlanta.