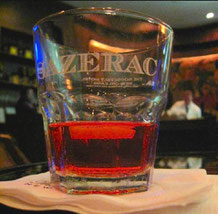 When asked to represent the U.S. market's most beloved Armagnac house, Armagnac Delord, during "The Greatest Brandy Category Is…" seminar at Tales of the Cocktail 2016 in New Orleans, I obviously accepted!
To be involved in such a seminar, presented by some of the USA's most recognized personalities in the beverage industry was, at the very least, an exciting prospect. And of course a visit to New Orleans couldn't be refused, as it would be my first.
I decided to begin my stay familiarizing myself with the local area, locating the venues, and getting started on networking. Very quickly I noticed that Tales of the Cocktail had drawn large numbers of industry professionals from all over the USA and the world. I especially noticed quite a lot of Australians, many residing in the USA and working in the industry I later found out as bartenders, mixologists and retail clerks. Continuing my walk through the French Quarter, it felt necessary to seize the opportunity to enjoy a Sazerac! I found the level of skill, knowledge, and attention to detail displayed by the bar workers throughout the French Quarter to rival that of the most well-known and respected cocktail establishments around the nation. In the French Quarter, the detail-oriented mixology was apparent in almost every bar I visited (and there were several).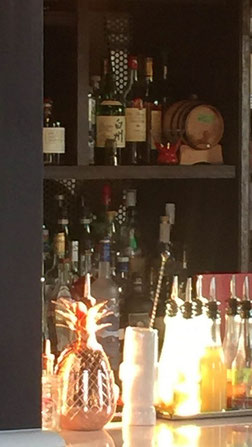 By 6 pm Bourbon Street had begun to liven up – a little too lively for my sedate middle age – so I headed to a little cocktail lounge and Jazz Bar, RFs, located next to my Hotel on Dauphine Street, one block away from Bourbon, but a world apart in character. RFs or Richard Fiskes is a New Orleans classic. The evening was spent talking cocktails with the Manager, Mackenzie, and proprietor, Andrew, whilst enjoying the head-turning jazz band playing on stage, the Meghan Stewart Quartet. At some point I found myself giving an impromptu Armagnac seminar at RFs. Future trips to NOLA will see RFs as a first port of call to enjoy some Delord Armagnac-based cocktails!
On to the Seminar!
The seminar was held at the Fleur-de-Lis suite at the Royal Sonesta Hotel and set up much like a political debate, a little tongue-in-cheek event moderated by Derek Brown of Drink Company and Columbia Room fame. The rules were set, cheering was encouraged, as well as clapping, stomping, whooping and chanting, and why not? Even we serious, high-browed brandy enthusiasts need a little whooping and chanting on occasion.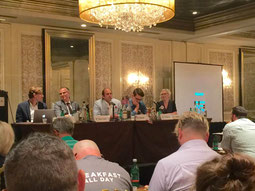 Each brandy category was well-defended by their spokesperson.
Cognac was represented and defended by Brandy Rand, Vice President of U.S. Marketing and Business Development at The IWSR, an international beverage alcohol research firm. Her defense of her category looked at the strict controls put in place in regard to the production of Cognac, combined with U.S. sales figures. Her most memorable tactic, however, was to attempt to tear down the other categories: Armagnac is not well known (it is known by the Best!); American Brandy lacks regulation and you don't know what you're going to get; and Brandy de Jerez is merely a byproduct of the Sherry industry. Lots of fun, a little real information, and with a "Mean Girls" attitude!
Jackson Cannon, Bar Director, Eastern Standard and Island Creek Oyster Bar Owner/Bartender, The Hawthorne represented Armagnac. Jackson defended his category with quiet confidence providing detailed information into the production and aging of Armagnac, terroir, and explanations of the three Armagnac Crus.
JP Fetherston, Head Bar Manager, Drink Company defended Brandy de Jerez. He delved less into sales figures, manufacture or historical significance. His presentation was simply based on the product, how it tastes, how it can be used, and how aging improves it.
Dan Farber, Founder/Distiller, Osocalis Distillery, who defended American Brandy, offered an impassioned defense based on exciting innovations that are being explored by U.S. Brandy producers, which may not be possible elsewhere due to strict regulation. His defense of American Brandies went onward to highlight the qualities of all three other categories.
One of the most notable questions asked by the Moderator was: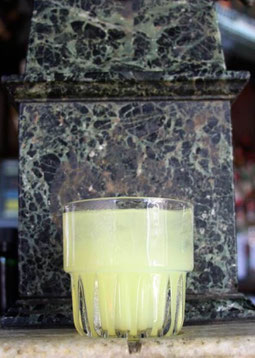 If you were not representing your category, then which brandy would you rather be representing?
Of the four defenders – one of whom who was already defending Armagnac – one declined to answer, and the other two chose… Armagnac! So of the 3 available panel votes, 2 voted for Armagnac and 1 abstained, making Armagnac the panel winner.
The crowd however voted by "Noiseometer," and by virtue of making a lot of noise, chose the patriotic favorite, American Brandy.
To each his own, but in this case I say, who wants to follow the crowd?