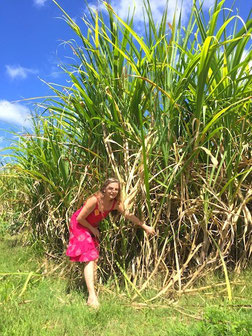 As most of you know, we take our product sourcing very seriously. In the case of Rhum, we have been actively seeking to discover the best quality Agricole Rhum available to add to our portfolio for U.S. representation. With that goal in mind we traveled to the French island of Martinique for a week of research and development. We had an amazing time! It was the beginning of harvest season and we were able to visit five of the seven distilleries on the island, as well as several historic museums. We  spent four full hours at one of these amazing distilleries and it was the highlight of our week, as we learned a great deal about the Martinique Rhum industry and tasted many fine spirits.
While I can't name names at this time, we are very excited about the possibilities of working with some very fine producers in the not-too-distant future. 
For those of you who are not familiar with Martinique agricole rhum, let me provide you a brief description: Rhum agricole (French pronunciation: [ʁɔm aɡʁikɔl]) is the French term for cane juice rhum, a style of rhum originally distilled in the French Caribbean islands from freshly-squeezed sugar cane juice rather than molasses. When France colonized some of the Caribbean islands, like Guadeloupe, Haiti and Martinique, they divided rum into two subcategories, rum industriel (rums made from molasses) and rhum agricole (rums made from pressed sugarcane juice) which accounts for only around 1 - 2% of all rums produced in the world. Rhum made from sugarcane juice has a different flavor and aroma profile from other rums, for real connoisseurs it is that unique and individual sense of terrior that makes rhum stand apart from ordinary rum. The rhum agricoles produced on the island of Martinique have achieved French A.O.C. status — the only rums in the world to do so.
To be labeled "AOC Martinique Rhum agricole" rum has to be produced from cane grown in an area authorized by the AOC decree. Currently, only the territories of the following 23 municipalities of Martinique are allowed for the cultivation of sugarcane intended for the production of AOC Martinique rum:
Fort-de-France area : municipalities of "Le Carbet", "Fort-de-France", "Le Lamentin", "Saint-Joseph" and "Saint-Pierre".

La Trinité area : municipalities of "Basse-Pointe", "Gros-Morne", "Le Lorrain", "Macouba", "Le Marigot", "Le Robert", "Sainte-Marie" and "La Trinité".

Le Marin area : municipalities of "Le Diamant", "Ducos, "Le François", "Le Marin", "Rivière-Pilote", "Rivière-Salée", "Saint-Esprit", "Sainte-Luce", "Les Trois-Ilets" and "Le Vauclin".
Since the AOC changed some of the rules a few years ago, it is no longer permitted to bottle Martinique Rhum that has been aged somewhere other than Martinique. So we have been actively looking to replace our highly-awarded Rum Chauffe Coeur 7 years old. This rhum had a great story;
it was a special limited selection that was brought in bulk from Martinique to the mainland France many years ago and it was put to age in the cellars of the original owner, who had created the brand name Chauffe Coeur after World War II. This rhum was then bottled in mainland France and exported to us in the US. Then we ran out…..! In the meantime, 2 things happened:
First, the AOC law changed and mandated that all Martinique aged rhums be bottled in Martinique
and second, Martinique rhums became a rare commodity and the distilleries were only interested in selling their rhum under their own labels.
In any case, I imagine the dozen or so bottles that remain will become increasingly valuable collector's items. Here is a list of awards earned by the Chauffe Coeur Rhum Vieux:
Ultimate Spirits Challenge 2011: 94 points / Finalist / Highly Recommended

Wine Enthusiast: Top 50 Best Buy Spirits 2006

Wine Enthusiast: Highest Recommendation / Best Buy

Spirit Journal: 5 stars / Highest Recommendation
Many American rum drinkers are still somewhat unfamiliar with this superb quality style of rhum, made from pure fresh pressed sugar cane. To those who have only tasted molasses based rum from the big industrial producers, rhum agricole can be an acquired taste. But once you develop an appreciation for the fresh sweet grassy notes in the unaged versions, as well as the fine layered complexity of the older ones, it is easy to become a dedicated fan. Some of the master blenders that we spoke with are true artists dedicated to their craft in much the same way as the Master Blenders of fine cognac, whisky and armagnac. 
In addition to our work on Martinique, we enjoyed perfect 85 degree weather, gorgeous beaches, and wonderful seafood meals during our week long stay. We also drove up and down the many hills and along the never-ending shoreline as we attempted to see as much of the island as possible. All in all our visit to Martinique was a fantastic experience. We left the island with very high hopes that we will be returning again and that we will soon be sharing some of these exceptional Martinique masterpieces with our U.S. distribution networks and you.