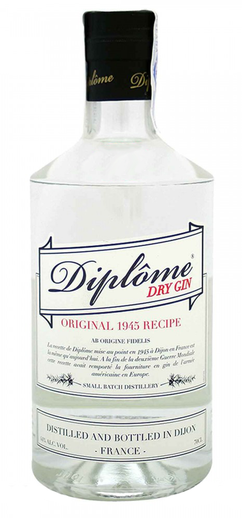 The Heavenly Spirits' exceptional French spirits' portfolio just got even better with the addition of "Diplôme Dry Gin," an amazingly good and historic blend from the city of Dijon, France. Already catching on in Japan, Australia, Canada and much of Europe, Diplôme will make its debut in the U.S. in February, 2016, launching first in Boston, New York, and Chicago.
The original 1945 recipe for Diplôme was perfected during WWII and soon became the official gin for the American Army stationed throughout Europe. Diplôme Dry Gin is a unique French made "London Dry" style Gin, created, and distilled in Dijon, a city known and respected worldwide for its culture and fine cuisine. 
The recipe for Diplôme Dry Gin is one of the oldest in France. 
Using natural botanicals sourced from Europe and Morocco, Diplôme Dry Gin is made from a selection of the finest juniper berries, coriander, whole lemons, orange peel, angelica, saffron, iris root and fennel seed available. With an ABV of 44%, Diplôme Dry Gin is perfect for use in gin based cocktails, while it is also one of those rare gins that can be enjoyed straight up chilled or on ice.
Each sip of Diplôme Dry Gin begins with a lively scent of perfumed citrus before revealing a complex layering of exotic spices, dark chocolate, lavender and zesty grapefruit, all delivered through a velvety texture and a lengthy finish.
Samples will soon be going out to selected spirits reviewers across the country. Our expectation is that they will be as enthralled as we have been with the quality and taste of this superb spirit. With an MSRP of $36.00 Diplôme Gin will make an exciting addition to anyone's top shelf collection of spirits. For more information and some exciting new cocktail recipes, visit Diplôme Gin.