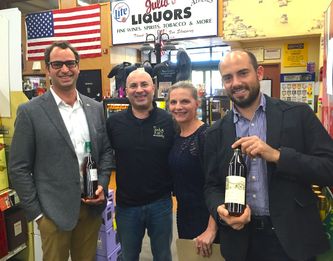 It's not every day that the heads of two very respected Cognac and Armagnac houses decide to take a trip to the U.S. TOGETHER, but then again, this kind of pro-active cooperation is what the Heavenly Spirits' marketing strategy is all about. What better way to promote the best-quality, family-owned, French craft spirits available?
Edouard Normandin-Mercier (of the eponymous Cognacs) and Benoit Hillion (of iconic Dartigalongue Bas Armagnac) represent some of the highest quality distillers in the classic French tradition. They started their tour in NY, moved on to Chicago, and ended with a visit to our home state of Massachusetts. 
They participated in tasting events as well as on and off premise visits all along the way, finishing with a very informative and entertaining Cognac vs. Armagnac Seminar in front of two full sessions in the renowned cellars of Federal Wine & Spirits, in historic Boston, MA. Their on-going, slightly barbed repartee during the presentation was good humored and witty while remaining informative and fun.
Here are a few photos from their stay in Boston: