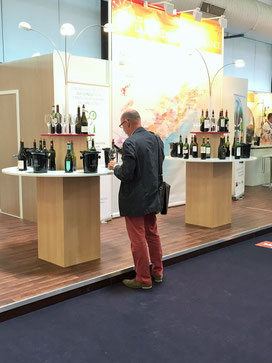 We arrived in Bordeaux to attend VinExpo on the second day of this five-day event. In addition to the two of us, we had our 22 year-old son, Austin, who now lives in France accompanying us for the "experience."
Soon after we began exploring the halls, we all seemed to notice the same unexpected male fashion statement at once, "red pants." One out of every 40 or so men were wearing red slacks. This is not very common in the US, so it stood out.
On the second day, I began looking closer and photographing examples. There seemed to be a kind of original fashion formula, that most of the variations evolved from, which included a blue and white vertical stripped shirt and a navy blazer. We saw a lot of those but also noticed the variations, which included different color shirts, no blazer, worn out red pants or an even brighter color blazer. After mentioning our observations to an American expatriate friend who has now gone native, he said the trend has been around for a number of years, and he believed it started in Italy.
On the third and forth day I started to notice other variations that I am sure stemmed from the red pants trend, including bright blue pants, and even a sort of yellowish gold color, modeled here by both my brother in law, Thierry and Edourd Normandin-Mercier, one of the cognac producers we work with.
 Let me just say it here and now, as a painter and a colorist, I am all in favor of this mild form of peacockism, and sincerely hope the trend one day carries over here to the good old U S of A. I think we can all use more color in our lives.
Held every two years since 1981, VinExpo is known as the world's largest Drinks industry trade show. With literally miles of exhibition space to navigate, it is always a daunting task to see everything and meet with everyone on our list. Christine and I only missed one VinExpo since attending our first in 1996, and this year was one of our most enjoyable experiences.