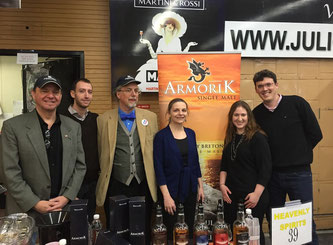 Almost one thousand whisky-loving fans attended Julio's annual Whisky Festival this past Sunday in Westborough, MA, capping off a whole weekend of seminars, tastings and dinners. Christine and I were pleased to be hosting David Roussier, Owner and Distiller of ArmoriK, Breton Single Malt Whisky, who was in town to participate in the festivities. Highlights of the weekend include: the Friday night Loche & K(e)y dinner with guest of Honor, Jim McEwan from Bruichladdich Distillers, Saturday's tasting seminar, "Saying Oui to French Whisky," delivered by David at Julio's Angel's Share room, and a more intimate "Meet and Greet Tasting" for 200 people on Saturday night at Julio's Metro Station Basement room. Though we have participated in this lively weekend event for the past three years, this year marks our greatest involvement yet, as we had a total of five different expressions of ArmoriK to share with the increasingly knowledgeable and ever enthusiastic consumers who attend. In addition to David's help, we also had the participation of Bill Ricker our Boston Sales Associate, Naomi our Office Associate, and Rory Caviness, Head Bartender at La Voile's in Boston. An unexpected piece of good news during the event came in the form of a positive review from the Whisky Advocate in their Spring edition, where the ArmoriK Sherry Finish was awarded 91 points and called "voluptuous ."
All in all it was a fantastic weekend shared with an enthusiastic group of whisky fans. 
See more pictures from the weekend here.