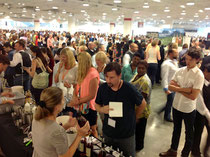 Tis the season to meet with many of our distributors and to talk with some of their on and off premise accounts as we anticipate a very busy spirit buying season ahead. In this case we headed South on a 5 city marathon tour, starting first in Atlanta where we arrived just in time to participate in Quality Wine & Spirits annual tasting event which they share with Inland Seafoods. The show kicked off the night before with a dinner hosted at Quality's newly refurbished warehouse show room. Several cocktails were created for the evening, including  a delicious "Artillery Punch" which featured Armagnac Marie Duffau among other ingredients.
The Atlanta tasting event itself was very well attended as usual and kept us extremely busy for most of the five and a half hours it lasted, ending at 7:PM. We met lots of folks and talked about new pairing ideas (caviar to foie gras) and cocktail suggestions with some very passionate and creative people.

From there we headed to the great state of Texas for a 3 city Texas Road Trip organized by our favorite Texas distributor, "Favorite Brands." It was a great opportunity to meet and talk with the energetic and growing sales teams located in Houston, Austin and Dallas. In between shows we took the opportunity to visit some of the major Texas retailer outlets like "Specs" and "Twin Liquors" while showing support for some of the incredible on-premise accounts who carry our products; "Au Petit Paris" in Houston and "The Bonneville" in Austin to name just two. All I can say is that the cuisine in Texas is as good as it can possibly be, at least in these outstanding restaurants.
As soon as the Dallas show ended we were heading to the airport to catch our flight to New Orleans. We arrived exhausted but with enough time to stroll down Bourbon Street, stop for a beer at "Vacherie" and wind up at "Cafe du Monde" for some Beignets and a decaf. The next day we were up early for a meeting with the sales team of George Brown and Vino Wholesale. Christine led us through a near complete tasting of all our locally distributed products followed by a lively question and answer period. During the meeting we were told of a New Orleans restaurant chef who uses our Troussepinete as an ingredient in his handmade pate. Needless to say, we headed over there for lunch and enjoyed an amazingly satisfying meal before getting back on the plane. The restaurant is called ROOT and the Executive Chef is Phillip Lopez. We gave it and the pate 4 stars. This was my first time in New Orleans and I look forward to going back soon for a longer stay. Visits to most of the other states that distribute Heavenly Spirits are already planned for the next couple of months. See our photo gallery for more highlights from this post.