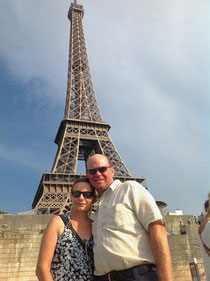 One of our favorite times of the year to visit France and meet with our suppliers is in June. This year was no different. Besides being one of the most pleasant times of year weather wise, it seems to be a time when our producers are more available to see us as work schedules are a bit lighter and little or no distilling is being done. VinExpo, the largest wine and spirits trade show in the world is held every other June in Bordeaux, so that also presents a great opportunity to research new products and meet with associates in the industry. This year VinExpo was scheduled for June 16 -20.
Due to business commitments in the US, I delayed my trip to France by about two weeks and Christine attended Vin Expo with our eldest son Austin, who now lives in France and was able to receive quite an education during the process. I believe it was the first time in twenty years I missed a VinExpo. During the four days in Bordeaux, CC had the chance to meet with many of our suppliers, research some new products for the Heavenly Spirits portfolio and set up meetings for when I arrived in July. Austin served as company photographer in my absence and I have posted some of his images in our photo gallery page linked below.
When I finally arrived on July 1st, Christine had a full schedule planned. Highlights included: a three day trip to the Loire Valley, three days of meetings in the Cognac region and several meetings in La Rochelle. Our biggest and most immediate news is that we have added not one but four excellent examples of Pineau de Charente to our portfolio to share with the American market. Normandine Mercier will be supplying a wonderful Pineaux that comes both in a red and a white version, while Cognac Jean Fillioux will be supplying a vieux red pinieau that is ten years old and a really lovely vieux white pineau that has fifteen years of age. With Americans becoming more and more sophisticated about aperitifs and spirits in general, we expect there will be quite an interest in these wonderfully popular before and after dinner drinks. 
Heavenly Spirit fans will soon notice some packaging improvements for some of our most popular brands that we will be announcing as they arrive. We will also be  launching at least one delicious, brand new, inovative spirit in the near future that we have spent quit a bit of time developing here. In short we have been working very hard to bring you, the American consumer, the best and most "heavenly" spirits France has to offer and we look forward to doing this for many weeks, months and years ahead. Stay tuned.  Click here for more images from our trip to France.