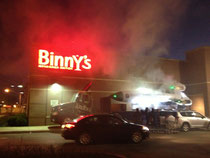 The month of April had CC and me participating in a number of tasting events and seminars in a number of places. On April 10th we were in New Hampshire at our distributor's annual tasting event. While we were there we received the news that Heavenly Spirits had both the #1 best selling Armagnac as well as Calvados in the State. Thank you New Hampshire!
   The week of the 14th we needed to be in Washington DC for a return engagement at the Alliance Francaise where we presented a two hour seminar and slide show on the differences between Cognac and Armagnac. Event participants paid $35.00 each for this fund raiser that benefitted the French cultural center and had the opportunity to taste four cognacs matched against four armagnacs of similar age. Being introduced to La Troussepinete, a wonderful French aperitif from the Vendee region was a bonus.
   Because it was school vacation week our twelve year old son joined us for the drive down and we had a chance to visit and dine in the great American city of Philadelphia. We ate at Fork, in the old town where both the food and drinks are outstanding. The recommendation came from our distributor Mark Monaco and we can easily make the same recommendation to anyone who appreciates fine food, and excellent service. After a pleasant London style bus tour of the city we all agreed it is a place we would like to return to as soon as possible.
   April is also the time of year for Chicago's annual Whisky Festival which has all but turned into a week long affair. It's a good opportunity to visit our distributor, BC Merchant and get out and visit some on and off premise accounts. Binny's, the largest chain of wine and spirit retailers in the state holds a Whisky Festival of their own and we had a really good time there introducing Armorik Breton whisky to the crowd of whisky fans. We also took the opportunity to introduce some of those whisky fans to the world of French Brandy, by presenting Delord Blanche Armagnac, Delord 10 year old Napoleon Armagnac, and Cognac Normandin Mercier, Prestige 15 year old to the interested attendees.  
   All in all it was a busy but productive month for Heavenly Spirits and having all the spring blossoms everywhere made it that much more enjoyable. See our gallery for more photos.