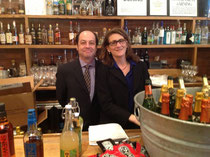 Leaving Massachusetts directly from our son's dramatic 10:AM Sunday indoor soccer match-up (our team won 2-1), we arrived in the Big Apple just in time to catch the Metropolitan Museum's Henri Matisse exhibition on its last day and it was well worth the effort. The show emphasized Matisse's masterful working methods, highlighting his tendencies to create series of paintings and to rework a composition until he got it right.
At the Annual VOS trade tasting, held the following day we had the opportunity to represent our own assortment of incredable French Masters who work in a completely different medium, that of distilled spirits. There are not many distributors around the country who carry such a large percentage of our portfolio as VOS so it was quite a sight to have them stretched out accross most of the City Winery's long bar. It is always a pleasure to attend these tastings even thought they are closed to consumers, because we get a chance to talk with some pretty knowledgable folks who work in the industry and have a great appreciation for our products. The NY City Winery  located on Varick Street, not far from Washington Square is a very hospitable environment for this event. In addition to a terrific ambience, the staff are  always friendly, upbeat and helpful, which, makes standing on our feet for seven hours less noticable and much easier to bear. Many thanks to the hardworking team at VOS Selections for another outstanding job in putting this show together. Well done!
See our gallery page for more photos from this event.