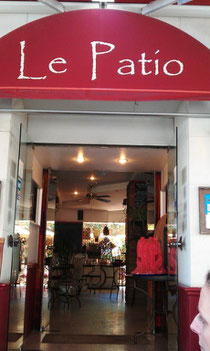 In the third week of our so called "vacation" we took two separate trips toward the city of Cognac to visit with producers and product packaging suppliers. On a Tuesday we visited with our very good friend Alain, a certified master blender of distilled spirits. As usual he insisted we eat at his and now our "favorite restaurant in Cognac," Le Patio, where the food is always amazing, the service friendly and professional, and the prices more than reasonable. We enjoyed incredible salads and got caught up on variety of project ideas.
 After lunch we headed off to meet with the Filloux family at Cognac Jean Filloux, located in the famed Grand Champagne area of Cognac. Though we have been here before, we took this opportunity on a perfectly sunny summer day to tour the entire operation and grounds, learning some of the fascinating history along the way, while tasting new blends and delicious little "financiers" cakes.
Finally, two days later we traveled to the medieval village of Pon and met with the impressive business team of Lise Baccara, producers of the wonderful aperitif, La Troussepinete. We learned much about the history and development of the company and many of their fine products as told by the founder, inventor, and master liquorist, Gerard Paignon, who was aided by not one but two English speaking members of their team. All in all it was a most productive meeting and we look forward to continuing the dialog as we move ahead promoting this amazingly delicious aperitif. Sandra Falaise, director of international sales will be traveling to the US in October to join us with Chef Patrick Guat and several of our other producers in Chicago where we will be conducting a series of informative Heavenly Spirits Portfolio Seminars and Tastings. We look forward to seeing a good amount of Chicago area spirit fans to come out for these unique events.
See Gallery here for more photos.