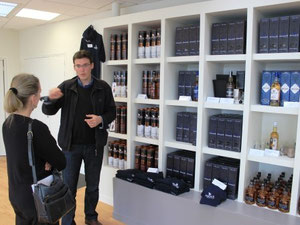 Our most involved meeting, that took place during our second week might have been the overnight journey we took to Lannion, to tour the Warenghem Distillerie. Located in the Brittany region of France it was a rainy five hour drive from La Rochelle in each direction.  It was the first time either Christine or I had been to Warenghem to see how they produce the best single malt whisky made in France. Hosted by Directeur Gilles Leizour  and his son-in-law  David Roussier,  it was a fascinating and informative experience that encompassed the history of the distillery and their particular art for making high quality single malt whisky, as well as other assorted spirits and beer. As I am writing this and remembering all we learned it is becoming clear that I could write a post for each and every product Warenghem produces, but I am not going to do that. Instead, I am going to provide you a link to the Warenghem web site and share some of our photos with captions of our day spent with Gilles and David.
     Specializing in Celtic spirits, Warenghem Distillerie is a very impressive, well established, multi faceted operation that produces several versions of their very tasty, well balanced, high quality, single malt whisky. Made with malted barley grown in the East of France and crystal clear granitic water from their own protected aquifer source located directly beneath the distillery. The mash is double distilled using a traditional copper cognac still and the spirit is then matured in wooden casks for many years. The way the barrels are used combined with the type of wood and the local climate are keysto obtaining the rich nuanced taste of ArmoriK Whisky. We are very pleased to be representing this world class whisky and encourage all single malt fans to give it a try. I think you will be pleasantly surprised.
     The city of Lannion is a charming Breton town, especially on market day when the central area near the salty river is filled with tables and stands of locally produced wares of all kinds, including: cheeses, wines, baked goods, assorted crafts and much more. Locals and tourists flock to the market, streaming in from all directions.  In the summer months the Warenghem Distillerie runs free tours and tastings every hour, open to the public and it is a very popular destination indeed, especially on overcast summer days. See the Gallery (part 2) for more photos and information. Click here for the Warenghem web site.