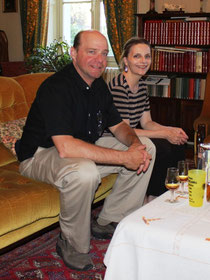 With our visit to La Rochelle, France now complete, I'm going to try and get caught up on sharing some of the food, wine and spirit related experiences we had during our stay. 
     Our first day of meetings began only a few days after arriving in La Rochelle. We headed to the city of Angouleme and were hosted for the day by Angouleme based Chef and Culinary Professor Patrick Guat, a man with a gift for bringing people and high quality food products together. In a series of visits and meetings, Patrick had arranged for us to see a number of exciting regional products and meet the entrepreneurs behind those products. We started by meeting Raynal Geoffroy, the force behind OBO premium soda, a wonderfully refreshing concoction that tasted to me like a cross between Dr. Pepper and some kind of ginseng energy drink. Made for the most part with healthy ingredients like ginseng and grapefruit and with much less sugar then most American soft drinks.  It seems to have struck a chord with pre-teens and thirty-somethings here in France. They might be looking for someone to introduce it to the US market.  I have to say, the product has a lot going for it, including a well thought out and professionally designed graphic identity. Of course we specialize in French spirits, not carbonated beverages, but we are aware that one does have to at least consider opportunities wherever they present themselves.  
     After lunch we headed off to see Jacquiot, a producer of Creme de Cassis and other liquors. We were greeted by Mr. Chaignaud, his wife and his lovely English speaking daughter, Clemence, who shared with us the history of the family vineyard and distillery. We tasted several of the products and toured the production facility, where they had just finished making and bottling this year's limited yield of crème de cassis. We now have an option to import some of it fpr the US market.
     While exiting the bottling room, I noticed a curious item (made famous to me by conceptual artist, Marcel Duchamp). It was the first time I had ever seen a traditional French bottle drying rack, actually being used to dry bottles. We already represent a crème de cassis made in the Dijon area of France that many of you know is quite good, so we were very surprised at how tasty this one was, made in the Charente. The main difference we found between the two was that the Jacquiot version had a burst of natural fruit tartness different from our Jules Theuriet brand. Both are just wonderful products and serve as the main ingredient for the Kir or Kir Royal cocktail so popular here in France. In fact these crème de cassis can be used in a variety of ways to improve or enhance almost any dessert. Later that evening we were invited to Patrick's home where we were treated to an amazing five course meal prepared by Patrick where he used the crème de cassis in a delicious savory sauce served over quail. I tell you, it was a day and a meal to remember.