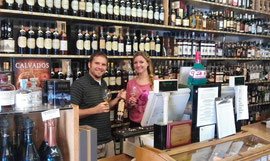 Productive West Coast Trip Keeps Heavenly Spirits Moving Forward, Part 1
Because we are the proud parents of two boys, and because I am an adjunct professor at a local university, Christine and I seldom get to travel together. Fortunately, this past week it worked out and I got to spend my "Spring Break" working in California. While I am not nearly as known or experienced in the field as my charming partner/wife Christine, I believe it is good for folks to know who I am, and for me to know them.
This was a whirlwind six day trip for me and a nine day trip for CC, packed with lots of meetings and moving about to and fro. Objectives of this visit included introducing a few new products and/or packaging designs, participating in the Expo-West trade show in Anaheim with one of our producers, and having the opportunity for me (the lesser known partner) to meet many of our distribution associates as well as our retail and on-premise clients in CA. Because we have such interesting and dedicated people in our network of associates and friends, the experience was a true pleasure. If Heavenly Spirits continues to grow at the pace it has over the past two years, we will be taking even more trips, together or individually just to keep up with the growth.
Our week began with a Heavenly Spirit tasting put together by Brian, of Epic Wines, held at La Mar Restaurant at the Embarcadero. The Peruvian cuisine was amazing; stunningly beautiful to look at and delicious to eat. Conversation was lively and quick as those in attendance took time in the middle of a busy work day.
For the next two days we visited a variety of Bay area Heavenly Spirits' clients, sometimes in conjunction with one of our distributor's sales representatives. One of these clients, D&M Wine & Liquor Co. is particularly well known for their knowledge of Armagnac and other French Brandies. They even have individual, connoisseur buying clubs for Armagnac, Cognac and Calvados that you can join and learn about on their web site: http://www.dandm.com/aboutus.php. What really impressed me at their Fillmore Street location, and I have never seen anything like it before in a store this size, is their "Wall of Armagnac," pictured here. While we had the opportunity we sampled owner Karen Politz and two of her staff on several of our newer products which they seemed to enjoy. Please check them out the next time you are in San Francisco.