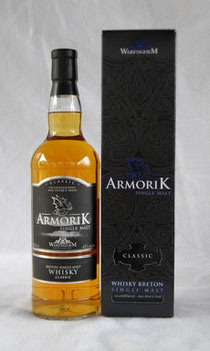 Armorik Classic Single Malt French Whisky has the distinction of being not only the oldest Whiskey made in France, (25 years) but the only French single malt whisky sold in the US.
It's been a great year for Armorik, as it earned an Exceptional Gold medal from the Beverage Tasting Institute's International Review of Spirits, who noted it was a "lively, easy drinking malt whisky akin to a fine Lowland Scotch." Paul Pacult also awarded Armorik four stars in the September issue of the Spirit Journal, while the Malt Advocate also featured Armorik in its New Products section, Summer issue, and author, David Wondrich, a respected spirit specialist said when speaking about Armorik, that he "loves it!"
In addition to all the attention Armorik is earning from its exceptional quality, the Warenghem Distillery, producers of Armorik have created an exciting new package design reflecting the long history of the distillery itself. The new design is pictured here and is now available in the US.
If you are a fan of single malt whisky and appreciate the art of French distilling you are going to like Armorik Breton Single Malt Classic, the only whisky in our exclusive French portfolio. Armorik Breton Single Malt Classic Whisky is an exercise in carefully balancing the classic whisky sipping elements, resulting in an ideal taste experience. Currently available in NY, NJ, MA, GA, TN, IL, RI, MO, & PA
ABV: 46%, 6/750ml, SRP: $49.00,
If that is not enough, Warenghem plans on releasing two other whiskies early in 2012; first a double barrel Breton single malt (Armorik Forest Oak / Sherry Cask) and then a limited release, vintage 10 year old, Breton single malt. We will keep you posted.
http://www.distillerie-warenghem.com/uk/whisky-breton/
Happy Holiday!