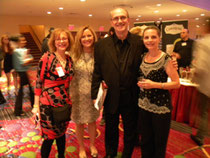 The second Ultimate Blast was held this past weekend at New York's Marriott Marquis Hotel - Grand Ballroom and we think it was even better then the first. Here we had the opportunity to taste some of the finest wines, cocktails and spirits in the world, with great music, excellent cocktail foods, and some really nice people all under one roof. The only real problem was not having enough time to experience it all.
From our point of view it seemed like the after party for the Academy Awards of Spirits (click here to read a list of our product awards) . Not only did we get to rub shoulders with industry stars and leaders but we had the opportunity to talk with the press, have our products' picture taken and offer Heavenly tastings to a wide range of people and fans who really care.
  One of the highlights for me was when Paul Pacult introduced us to David Wondrich, who was there to sell and sign his newest book, "Punch." While looking at our line up of French products David noticed we had the French made Armorik Whisky and commented "I love that whisky." Being that I also love that whisky and value David's opinion, I immediatly asked him if I could quote him and he said "yes." So there it is for any of you whisky fans who who have yet to taste our wonderful French Whisky, made in Brittany, David Wondrich loves it. Come to think of it, we had people telling us all night how good it was, including Paul Pacult who has included it in his reknowned spirit seminars and that good looking woman who showed up late with Gregg Glaser, publisher of Modern Distillery Age. ArmoriK whisky will be showing off its new look in November. I hope the reaction to the new package will be as positive as the reaction has been to the new blend of this wonderful, easy to drink Whisky. See more photos here in our gallery or on our Face Book page. Cheers!