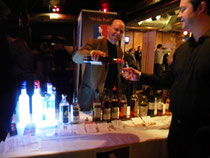 We are just back from a very spirited tasting party in Chicago. The Bottom Lounge played host to this first ever Independent Spirits Expo held in Chicago. The event showcased over seventy vendors including many of the smaller independent craft distillers popping up all over the US and around the world. Over five hundred people from both the drinks industry as well as consumers were in attendance.

      Heavenly Spirits was there showcasing some of our award winning products, including: Qino One Vodka, Delord Blanche Armagnac, Artez Pear Eau de Vie, Armorik, Single Malt French whisky, Roger Groult Calvados Pays d' Auge, Marie Duffau Bas Armagnac Napoleon & Hors d' Age, Dartigalongue Bas Armagnac XO & Hors d' Age, Delord Bas Armagnac 25 year old, Jean Fillioux Cognac Grande Champagne Cep, Jules Theuriet Cremes de Cassis and La Muse Verte Absinthe. During the tastings we had a chance to talk with a lot of interesting folks who came to our table with a wide range of spirit tasting experiences. I think it is safe to say we offered one of the broadest tasting selections at the event and were pleased to receive many compliments of high praise for the quality of our products and portfolio.
      Following this event Christine and I took the opportunity to spend the next two days visiting some of the outstanding on and off premise accounts in the Chicago area, where we conducted custom tastings for owners and staff. Chicago is a fantastically cultured city that continues to be one of our best markets due to their appreciation for exceptioal quality French spirits.