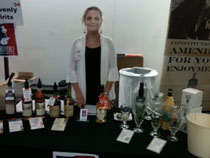 This week, Heavenly Spirits traveled to Georgia to participate in Quality Wine & Spirits' annual tasting event. Always a first class affair, and regarded by vendors and clients as the best distributor show in Atlanta, this year was no different. Retailers even came from neighboring Nashville, TN to taste the vast selection of wines and spirits. Held at the renowned Gift Mart Convention Center of Atlanta, Quality also supplied a tasting of fancy foods including crab meat, oyster, lobster, scallop, and cheese creations, for those who were in attendance.
Heavenly Spirits was showing Whisky Armorik, Armagnac Marie Duffau, & Dartigalongue, Calvados Chauffe Coeur, Delord Floc, La Muse Verte Pastis and Absinthe.
Joe Best is the owner of Quality Wine & Spirits.
The VP / Purchasing Director is Bill York.
Lindy Colburn is the Manager of Spirits & Mixology.
For more info go to http://www.qwine.com/takingthebestapproach.htm
Stay tuned for upcoming tasting events for Heavenly Spirits in Chicago, New York and elsewhere.