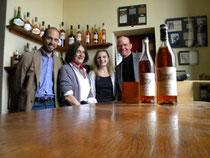 There is no better way to mark an anniversary, a birthday or a some other special annual event than with a bottle of vintage Armagnac made in the year that is being celebrated.
Dartigalongue, the oldest house in Armagnac has been producing vintage Armagnacs for over 170 years. The Dartigalongue Celebration Collection was created for just these types of events. Since we are in 2011, vintages from years ending in "1" including 1991, 1981, 1971, 1961, and 1951 are now available through Binnys either on-line http://www.binnys.com/spirits/search/?advs=2&astxt=dartigalongue or directly through their retail locations. Additional US retailers will be carrying the collection in the Fall. Check to see which other vintages are available.
Christine and I were thrilled to once again visit the Dartigalongue cellars this past June and taste many of these fine vintages including the highly acclaimed and very rare 1959. Benoit Hillon, the newest edition to this esteemed family house was the perfect host during our visit. He and Madam Dartigalongue also took us on a tour of their fascinating Armagnac museum sharing industry stories and information that dates back to the early 1800s.  
For a rare gift that truly marks that special annual occasion you can't do better. To learn about this and other Dartigalongue products available in the US please click here: dartigalongue.com/ or contact Heavenly Spirits at ccheavenlyspirits@gmail.com/.