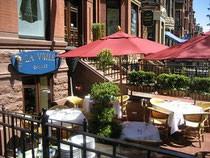 One of our favorite on-premise accounts is La Voile Restaurant. http://www.lavoileboston.net Located on Newbury Street in Boston, La Voile offers classic French cuisine in a comfortable and convenient location. Our products find a perfect home at La Voile include: Armagnacs; Delord, Chauffe Coure, & Marie Duffau, Cognacs; Seguinto, & DuPeyrat, Calvados; Chauffe Coeur & Groult, Pastis La Muse Verte, and Qino One Vodka, the super premium French vodka brand Christine and I created and introduced in 2007.
     While the Heavenly Spirits portfolio has distribution in over twenty states, we are our own distributors in the state of Massachusetts. Due to the amount of time that is required to adequately keep up with each account we concentrate on servicing only about thirty off-premise retailers and less than a dozen on-premise restaurants or bars in the state. Restaurants and bars can be particularly demanding costumers that often need last minute inventory at difficult travel times. We appreciate La Voile for always being considerate when placing orders, allowing us a fair amount of flexibility to deliver on time.
     The next time you are in Boston looking for genuine French cuisine visit La Voile and tell them Heavenly Spirits sent you.