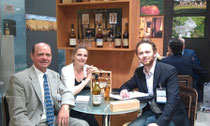 Held every other year in Bordeaux, France, VinExpo is the largest trade show of wine and spirits in the world. The 2009 edition was the first CC and I had missed since 1995, so it was great to be back this year. We had a full schedule of meetings with mostly great news to report to our producers. We arrived Monday evening to attend a BNIA sponsored event featuring Armagnac in many forms accompanied by some fantastic regional foods. One great discovery I made (though it might seem obvious to some) was how fantastic a good Armagnac (or Cognac) can taste when served on the rocks in a whisky glass in place of a scotch before dinner. I strongly recommend all you scotch drinkers to try it some time. Regional cuisine samplings included; probably the best smoked salmon I ever had, marmite de brandade, fresh oysters and some fantastic desserts.  In addition to the fine food, a cigar maker from Gascony was showing off his craft and handing out free samples. In attendance at this soiree were most of the Armagnac industry's biggest and most prestigious importers and producers as well as some top sommeliers and industry writers some of them shown in the photo gallery below. As the top importer of Armagnac in the US, Heavenly Spirits was happy to have the opportunity to hang out and party with this hard working group.
The following two days were taken up by meetings with our producers and discussions of finding even better ways to serve American consumers of exceptional French spirits. We also had an opportunity to walk through what seemed like miles of exhibition halls that featured an amazing aray of the worlds finest wines and spirits. During this walk we spoke with some of the producers of products we might consider adding to our portfolio. The only word I can say about this right now is "aperitif,"... and boy are there some delightful products available that most Americans have never even heard of. Hopefully we will have more to report on this subject very soon. 
I will write more about the events and happenings stemming from VinExpo in later installments, but for now I'll just post a few photos and wish everyone a fantastic Summer. Feel free to contact us via email with comments and suggestions.