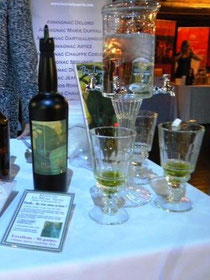 This past weekend, Heavenly Spirits participated in a wonderful new tasting event sponsored by the MIT Club of Boston at the Royal, located just around the corner from where BLUE MAN GROUP perform. Ivy+ Fine Spirits was an opportunity for MIT Alumni and Grad students to taste some of the finest spirits available in New England while helping to raise some funds for the MIT Club and over $1,400 for Mothers Against Drunk Driving. We were one of only 28 spirit vendors invited to showcase our products and the only one specializing in French imports. Federal Wine and Spirits was the official retailer who made it possible for anyone to order any of the spirits they tasted. The response was phenomenal.
From the moment they opened the doors to the sold out crowd of almost 800 we had people standing four deep in front of our table for the opportunity to learn about and taste our products. One of the top attractions for our table (and for the event I was told) was our La Muse Verte Absinthe. Perhaps it was because we had the traditional absinthe fountain set up and filled with fresh ice water that we slowly dripped into the glasses of La Muse Verte. Folks were allowed to taste it with sugar or without. This very learned crowd wanted to know everything about the history of absinthe and so I obliged as best I could by putting on my college professor hat and telling them everything I knew. Apparently the word spread that we had something more than quality products because folks kept showing up at our table demanding to hear the whole story of absinthe. They also had questions for Christine about Armagnac, Cognac, Calvados and Armorik, our French made whisky as well.
The event ended promptly at 6:00 PM and due to a system of limiting the number of tastings to ten per person everyone seemed to safely walk away with a smile on their face and a glow in their heart. In fact I didn't even see one person who got totally Charlie Sheened, and that is a good thing. Congratulations to Kevin McComber and his team for doing such a fantastic job organizing this fine event.
See our photo gallery for more images of the event.