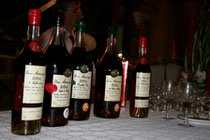 Heavenly Spirits Ranked as Leading
US Importer / Marketer of Armagnac
According to statistics recently released by the BNIA, Heavenly Spirits of Lakeville, MA is once again credited with the importation and distribution of more Armagnac to the US by volume than any other importer.
 Heavenly Spirits LLC, importers specializing in fine French spirits has earned the top US Armagnac distribution ranking for the third consecutive year, based on the importation and sales of a variety of Armagnac brands it represents. These Armagnac brands include Delord, Marie Duffau, Dartigalongue, Chauffe Coeur, and Artez.
What's new this year is that Armagnac Delord for the first time ever is the #1 producer of Armagnac sold in the USA, helped in part by its sister brand, Armagnac Marie Duffau. While sales for Delord have increased tremendously over the past few years, the Delord family remains focused on producing an artisinal product made in the same tradition as their ancestors.
Armagnac sales in general are of course only a drop in the bucket compared to overall Cognac sales. For every bottle of Armagnac sold in the US over 260 bottles of Cognac are sold.  Despite this fact, things are definitely moving in the right direction for the oldest spirit in France with a 29% increase in Armagnac sales in the US compared with 2009. Armagnac, along with many other types of artisanal and small batch spirits seem to be trending upward as a new generation as well as baby-boomers  seek to explore and educate themselves about what experienced palates drink both before and after a good meal.
We wish to thank our many dedicated distributors and clients as well as our producers for their efforts to expand the Armagnac market. To keep the trend going, we believe Armagnac fans should be the ones to continue spreading the word. Simply put, "If you like Cognac, you'll love Armagnac!"
The BNIA is the official trade office of the Armagnac region in France and according to its web site, "Armagnac is the oldest wine based eau de vie in France. It is produced in the heart of Gascony, Southwestern France, by a single distillation of white wine in an Armagnac alembic (still) and then left to age for many years in oak barrels."