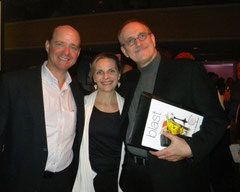 On a whirlwind trip to the Big Apple this past weekend, Heavenly Spirits participated in the first ever Ultimate Cocktails, Spirits & Wine Blast. Held at the New York Marriot Marquis Hotel in the Broadway Ballroom and hosted by Sue Woodley and F. Paul Pacult, it was quite an event. The 1,200 tickets to the Blast sold for around $100 each and they were sold out well in advance. In addition to a festive ambiance, good live jazz music and a nice variety of finger foods the place was packed to the gills with some of the finest cocktails, wines and distilled spirits available in the world. These award winning products were the stars of the show as everyone clamored to get an ultimate taste and perhaps talk with the producers or agents of the libations they enjoyed most.
Click here to see more photos.
Christine and I were busy all night pouring samples and talking with folks who had come to learn about the eight Heavenly Spirits products that rated from Highly Recommended to Ultimate Recommendation in the Ultimate Spirits Challenge held in March of this year. We had pouring help from Calvados producer, Jean Roger Groult who flew in from Normandy and New York Armagnac Ambassador, May Matta-Aliah who was happy to come by and lend a hand.
Our award winning products included: Absinthe La Muse Verte, Armagnac Artez VSOP, Armagnac Delord XO, Armagnac Marie Duffau Hor d'Age, Calvados Roger Groult Pays d'Auge, Cognac du Peyrat VSOP, Cognac Seguinot Napoleon Grande Chamgagne, and Qino One Vodka.
We also had the pleasure of meeting and talking with dozens of New York retailers, and restaraunt owners as well as the industry media and producers from around the world.
Congratulations to Paul, Sue and the Ultimate Crew for putting together such a first class event!