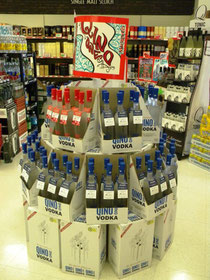 This has been a busy summer for us so far and we've had lots of support from our Massachusetts retailers. Our July 3rd cocktail tasting at Cotuit Liquors was a big hit as customers enjoyed the Raspberry Cape Codder samples we were offering along with tastings of La Muse Verte Pastis and Absinthe. Many of the consumers we talked with had never heard of these popular French drinks but seemed happy to learn by tasting them. We ended up selling every bottle of Qino One Vodka red and blue in the store.
Martignettis of Brighton, MA has been supportive by building the Castle of Qino One Vodka pictured here and promoting it on their sign out front. It's not easy competing against the big industrial vodkas, but once you taste Qino One, you appreciate the all natural, no additive difference. Our Raspberry flavored vodka is so different from other brands who use flavored syrups. Qino One Raspberry is made from 100% natural raspberries macerated in Qino One vodka before being distilled and blended again. Almost no sugar is added. The nose is pure and natural raspberries.
Our summer tasting schedule is always being updated. Tonight we'll be at Corks in Mansfield, MA. Stop by for a Heavenly taste of  summer spirits.
Cheers!