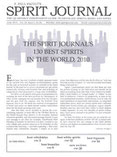 Each year, the Spirit Journal by Paul Pacult, perhaps the most highly regarded spirit review publication in exsistance, selects the 130 Best Spirits in the World. As part of this year's selection 34 Five Star Bandies made the list, and we are very pleased to announce that four of them are from the Heavenly Spirits portfolio. Are we surprised? Not really, representing exceptional spirits has always been our goal, though it is awfully nice to have our own selection process confirmed by such a well respected source.
   Once again, we must credit our suppliers for doing such an outstanding job in producing these fine spirits and thank our distributors and clients for appreciating the quality and value that our products deliver.
Heavenly products that made the 2010 World's Best list include:
Cognac Seguinot, Grande Champagne - Napoleon - named the # 2 cognac of the year
(#1 priced under $400.)
Chauffe Coeur Armagnac Hors d'Age
Delord Armagnac, 25 Years Old
Chauffe Coeur Calvados Hors d'Age
If you have the opportunity to see the the entire list, ( http://www.spiritjournal.com/ )note how all of Heavenly Spirits products represent the best value by far, often competing against products that are four or five times the price.