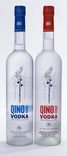 As some of you might recall, Christine and I created and introduced a new brand of super premium vodka in 2007 called Qino One Vodka. The product was well received and earned several industry tasting awards. Heavenly Spirits is now the sole distributor of the Qino One brand and we are eager to get back to the business of promoting it. This top shelf vodka fits in perfectly with the rest of our exceptional spirits portfolio. Made in Cognac, France from European rye, and enhanced with distilled organic fair-trade quinoa, Qino One Vodka is a perfect balance of body, style and vodka taste/non-taste.

When we first started the Qino One brand project, our goal was to go beyond creating "just another vodka." Our intentions were to create a unique and exceptionally "good spirit," one that could be enjoyed straight up in moderation or shared in mixed drinks among family and friends on social occasions. We also wanted it to be a product we were proud of and one that gave back in some way to those in the world who were less fortunate. By consolidating the brand ownership, these goals have been accomplished. In 2008 we joined the good efforts of Kiva.org by becoming a lender to disadvantaged entrepreneurs in developing countries. We now plan to increase our level of involvement with Kiva and urge others to do the same through the sales of Qino One Vodka and Qino One Raspberry Flavored Vodka. Starting in 2010, a percentage of all Qino One sales profits will be made available for Kiva loans. If you would like to support our Qino 4 Kiva initiative please continue to buy Qino One Vodka products. Or, you can contact Kiva.org directly by linking to their site in the ad at the bottom of this page.
This week we will be offering tastings of Qino One Vodka, Qino One Raspberry flavored vodka and several of our top rated brandies at Martignettis retail store in Brighton, MA. We will be there from 4: PM to 7:PM on Friday, April 16. We hope to see you there and as always, we thank you for your interest and support.