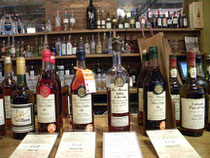 The VOS Annual Grand Portfolio Tasting event was held at the City Winery in New York on Monday and it was a great success with over fifty producers represented. Well attended despite the rain, we had a steady flow of visitors to our choice location at the bar. Many of the visitors were retailers who already stocked some of our products but they seemed to take great pleasure in sampling the full variety of what we had to share. This included a new product we are very excited about but are still awaiting FDA approval on; Genievre Vieux Malt, which I describe as an old time Gin distilled from 100% barley and aged in oak for 8 years. It is actually considered a vintage as the grain was harvested and distilled in 2001 and the product was bottled in 2009. It is made at the oldest active distillery in France, Claeyssens de Wambrechies. People who tasted this Genievre loved it and couldn't stop talking about it. The big question seemed to be "how to market it." Most who sampled it agreed it tastes like a flavorful, well aged whiskey with a hint of juniper. As a Friday-night Scotch drinker myself, I really enjoy the way this drink can be savored neat or on the rocks. One of the VOS Sales team managers took the time to mix his version of a Rob Roy using the Genievre and it was quite delicious.
Some of the other products VOS carries that we were showing include:
Roger Grout Calvados:
Vieux Calvados - 8 Years
Calvados Venerable - 20 Years
Calvados Age d'Or - over 30 Years
Philippe LaTourelle, Cognac VS
Jules Belin. Marc de Bourgogne
Marrie Duffau - Delord Armagnac:
Napoleon
Hors d'Age
25 years
1973
La Muse Verte:
Absinthe and Pastis
VOS Selection's CEO Victor Schwartz and his team did a wonderful job in putting this event together. We also had a great time at the after event party hosted by Victor and his wife, where we had the opportunity to chat with many of the wine makers who came from all parts of the globe.