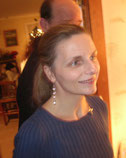 Hats off to my incredible wife, Christine, for the Babette like feast she threw together despite a bad back, to help us bring in the New Year. To be fair, it was at my urging that she began to imagine this incredible spread on Tuesday. She then bought all the ingredients on Wednesday and spent all day Thursday cooking and preparing. Here is how it unfolded starting at 8:PM New Years Eve: As the dozen or so adult guests arrived and gathered around the kitchen island, we started them with a cocktail which Christine assembled, shook slightly with crushed ice and poured into assorted martini glasses. The name of the cocktail that inspired the one we served is "Queen Bee," and it was created by Neil Kopplin, bar manager of Carlyle Restaurant, Portland Oregon. Christine's variation uses white Armagnac instead of vodka, so I'm going to call it a "Queen Bee - Christine." Take White Armagnac, St. Germain Elderflower liqueur, lemon juice, maple syrup, shake lightly with crushed ice and strain into martini glass. Top off with sparkling wine. Garnish with lemon zest curls. As we sipped this deliciously refreshing nectar we began grazing on assorted starters like Mediterranean olives, lightly salted mixed nuts, grape tomatoes, and approximately ten different imported cheeses hand picked by Christine at Whole Foods, including: Brillat Savarin, Conte, Edel de Cleron, Emmental, Goat Brie Montchevre, Goat Gouda, Manchego, Petit Basque, and St. Nectaire.
                Before anyone got carried away by the Queen cocktail, we offered a choice of white wine: Sauvignon Blanc, from Sterling Vineyards - 2007, or Chardonnay, from Chalone Vineyards 2008… and then invited everyone into the dinning room buffet for the second round of eats; Hama chi Tartar, served on delicately thin rice crackers, Balsamic caramelized onion tart, a platter of Smoked Salmon and Trout, Seared Sea Scallops served on a bed of baby spinach, with a dribble of apple cider shallot reduction, and two choices of soups; Classic French Onion, deglazed with 15 year old Calvados served with homemade toasted croutons and sprinkled with shredded Swiss cheese, and a Cream of Cauliflower soup, topped with crumbled bits of baked prosciutto flakes, served in mini glass tea cups. Sophie, one of our guests, brought a beautiful salad of spinach and artichoke hearts. Kathy added a plate of grilled shrimp skewers on a bed of asparagus spears with a creamy garlic egg white dip. Christine advised us all to pace ourselves so as to remain ready for the main course which would follow.  Believe me, this was difficult to do.
                Per our request, each guest brought a bottle of red wine and as a result, we ended up with quite a decent line-up to select from, including: three Malbecs – Andeluna 2007, Colores Del Sol Reserve 2008, Graffigna Reserve 2007, two Pinot Noirs – Kendall-Jackson 2006, Beringer 2006, two Zins – Rosenblum XXXI cuvee, Gnarly Head 2007, a California Cab – Toad Hollow 2004, and both a Meritage and a Shiraz from Sterling Vineyard. "Gnarly" is right!
                The third wave of this amazing New Years Eve feast included  a Roasted leg of Lamb stuffed and encrusted with a half inch thick blanket of bread crumbs, mushrooms, shallots and herbs, a Champagne Risotto with prosciutto and asparagus tips (recipe from our good friends the Ackermans), and more asparagus spears served in melted butter on the side.  
                At the stroke of midnight we toasted in the New Year with flutes of Moet & Chandon, compliments of our guests Carol and Cameron. Dessert was then served and included: a very tasty Tarte a l'Orange from the recipe file of Christine's Tata (Aunt) Nennette, as well as some Oeufs au lait, homemade individual custards topped with fresh raspberries and coulis served with a thin, crisp almond cookie from Trader Joes stuck into the top. To accompany the dessert we served a choice of more champagne or Floc de Gasgone, a dessert wine from the Armagnac region and finally, a short coffee. (note: Teenagers in attendance were only allowed to drink nonalcoholic sparkling cider, water, or juice.)
                By this time (1:00 – 2:00 AM), everyone had migrated to the living room and was spread out around the glowing fireplace, when to help with our digestion Christine presented a hand-picked selection of exceptional cordials and spirits, including award winning brandies from the Heavenly Spirits portfolio; Cognac Seguinot XO, Armagnac Delord 25 yrs., Armagnac Delord 1969, Calvados Chauffe Coeur 15 yrs., Calvados Roger Groult 40 yrs., as well as a few of our favorite liqueurs; Canton ginger, Godet Pear, and Cream Shery Zuleta. She even pulled out one of the few remaining bottles of Eau de vie de Amedee, distilled from plums on her Grandfather's farm over forty years ago. For us, Christine's Feast was a great way to bid adieu to a year that we would mostly like to forget, and to usher in the promise of much better things to come. Christine and I would like to thank all of our friends, associates and customers for their continued support, and to wish you all a very positive, prosperous, healthy and happy 2010. We look forward to seeing you on the journey.
Cheers! Daniel & Christine Cooney