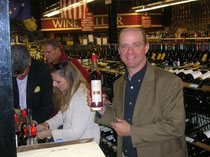 We are back from our three day stay in Chicago where we met some great folks interested in learning about French Spirits. On Thursday we were at the Grant Avenue Binnys Managed by Ken Jursa. We were invited to set up a table and serve as a kind of finishing point for a fine wine tasting of Grand Cru Bordeaux and a few Sauternes. I even had the rare opportunity to taste a creamy smooth Yquem Sauternes - 1995. Unbelievable! As I was sipping it, I kept thinking, "Where is the foie gras?" At our Heavenly Spirits table we sampled the participants on four different Armagnacs; 6, 10, 15, and 25 year old, all from the Delord distillery in Lannepax, France, and two different Calvados; an 8 year old Roger Groult and a 6 year old Chauffe Coeur, both from the Pays d' Auge region. In addition to that, we had our LaMuse Verte Absinthe Fountain set up and talked to the tasting crowd about the myths and mysteries of absinthe.
On Friday night we were scheduled to give a two hour sit down tasting seminar at the Highland Park Binnys, on French Spirits, featuring Armagnac Marie Duffau 1st Cru along with some of the selections from the previous night. When we arrived at the store, we were happy to find that Manager, David O' Sullivan, and Assistant Manager, Jason Lawrence and crew had sold out the 31 seats available for the seminar and that they were still turning people away only a half hour before we started. It was a lively and good natured group, who asked a lot of pertinent questions. It served as a good reminder to us of why we love this business. One of the attendees, Justin, a wine and spirits writer of Grapevine Consulting told us that he is constantly aware that each one of these fine libations is the result of someone's artistry, passion, and dedication to the craft of distillation. We could not agree more, as this is the exact point that we try to communicate in each of our presentations. Distillation is an Art and we are proud to be representing some Heavenly Masterpieces. Our plan for 2010 is to book more of these tastings and seminars for those who want to learn more about this tasty and distinct Art.
For more photos see our picture gallery page.