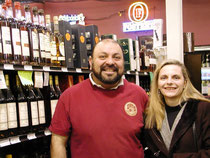 No joke, we are just back from a real whirlwind trip to Chicago. We had a variety of different projects to attend to and people we needed to visit but whenever we are in Chicago we always find time to visit some of our favorite retailers. During this trip Christine stopped in for a nice visit with Brett Pontoni at the new South Loop Binnys, and we both got to say "Hi!" to David Soto, the spirits buyer at Sams. These two fine establishments have been supporting the Heavenly Spirits product line for over a dozen years and they always seem interested in any new gems we discover and bring with us to share.
The newest of our product line to be shown at Sams is La Muse Verte Absinthe, and Pastis. David reports that sales have been very good at Sams. It does not surprise me that our pastis is enjoying new interested buyers based on all the buzz that the absinthe is making. Pastis of course, is the milder, slightly sweeter and more liquorishy cousin to absinthe. Sans thujone, it was created to take the place of absinthe when all the fuss was originally started back in 1915. Pastis is now standard bar fare in virtually every bar in France. It is taken throughout the day and is especially popular in the summer and in the South. Find out more about La Muse Absinthe and Pastis on our web site.
The Armagnac Delord line, (pictured here with David and Christine) continues to be one of our most popular products in both of these fine Chicago wine & spirit chains.