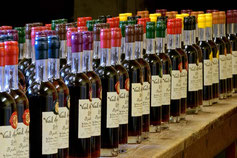 The final Armagnac numbers are in for 2008 and the news is good for CC and Heavenly Spirits. The Delord Armagnac House, producing both DeLord and Marie Duffau Armagnac is the second most sold Armagnac in the US behind Larresingle. Combined sales of DeLord and Marie Duffau represented 10% of all the Armagnac sold in the US, based on the numbers of 46 producers.
If you combine all four Armagnac brands sold in 2008 by CC Spirits and Heavenly Spirits it makes Heavenly the largest overall importer of Armagnac by 20%.
DeLord / Duffau increased the volume of US sales  by 12% in 2008 as did Armagnac Chauffe Coeur, while sales of Armagnac Dartigalongue show an increase of 80% for the same year.
This is indeed good news for our retailers and distributors as well as anyone else in the US who appreciates fine Armagnac.