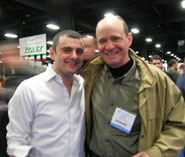 Here I am, just back from the Boston Wine Expo. We used to attend regularly when Christine was selling wine, but we hadn't been in a number of years. The Boston event still does not allow spirits. I guess they think the local culture isn't quite ready to handle it. After all, it has only been twenty-five years or so that the region has been "getting" wine. I think we are ready for spirits and would like to suggest to the expo committee that if they are worried about people getting swacked, perhaps they should start with limited tasting times, say between 10:00 and 12:00 each day. That is the optimal time for tasting spirits anyway.
  It was a real pleasure for us being able to casually walk the aisles saying hi to friends old and new. We cleared some goods for the Michelotti winery so they had a booth with Heavenly Spirits written on it. They have a fantastic line-up of limited production Italian wines that retail between $12. - $50. It was great fun tasting the entire stair. Our friend Dick Tosi is the brand manager in the US for these fine products. Check them out at: www.nocetomichelotti.com
   We also had the pleasure of seeing our friend Diego De Corte, formally of Tricana in NY, who is now co-owner of Bonhomie Wine Imports. He showed us some very impressive Chiantis, and a wonderful Vernaccia di S.Gimignano, full of grapefruit and green apple.
   Finally, on our way out of the expo hall who do I see, but Gary V. That is Gary Vaynerchuck of wine library fame. He is a virtual internet rock star and I had intended on attending his seminar that was held earlier in the day but missed it. So we introduced ourselves, exchanged cards and he graciously offered to take a photo with us. If you do not know Gary and you are in the wine business, you should. Check him out: www.winelibrary.com  See more photos on our gallery page.