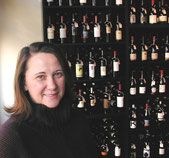 Boston MA – January 9, 2009 – Here I am, just back from visiting the original Brix Wine Shop on Washington Street in Boston, where I had the pleasure of meeting Carri Wroblewski, one of the owners. If you drink wine and live in or near Boston you need to check this place out. Looking and feeling much more like a modern art gallery than your typical ramshackle corner Liquor Mart, Brix takes buying Wines and Spirits to another level, in a clean, clear, oh so civilized way. When we first walked into the store after escaping the frigid gusty winds that were blowing outside, we found Carri cradling a $4,000. bottle of Cognac. Not your typical bottle of hooch by any stretch, it was a special order for a special customer and it had just arrived. Clearly, being able to offer and supply this kind of specialty service for her clients was something Carri was proud of and something not many other liquor merchants were willing or able to do. Before returning to us, Carri shuttled the $4,000. bottle into the back of the store for safe keeping until her client arrived.
            After a quick inspection of the store's offerings, we were pleased to find that Brix already carries two of our products, Cognac Seguinot - VSOP, and Armagnac DeLord - XO. Both products are nicely displayed on the top shelf spirit wall, located behind the main counter/bar. "Our Heavenly Spirits are in very good company," I thought to myself, here along with the likes of some very high quality whiskeys, rums, vodkas and gins.
            One of the design details I noticed and liked while viewing the walls of wine offered at Brix is the way the prices are hand written on a plain and simple hang tag presented on the neck of each bottle. It creates a unifying effect on the wall and makes it easy to remove the price from the bottle after purchase.
            The only down side I can imagine to such a clean and efficient presentation of wine and spirit products is if you are the type who likes to rummage through dusty old bins looking for rare and chancy bargains. If that's what you're looking for, you won't find it at Brix. But, if you want clean, clear choices of top rated wines and spirits, reasonably priced with smart helpful people ready to assist you, shop here. You'll feel right at home. And tell them the Spirit Guy sent you. For more information see: www.brixwineshop.com .